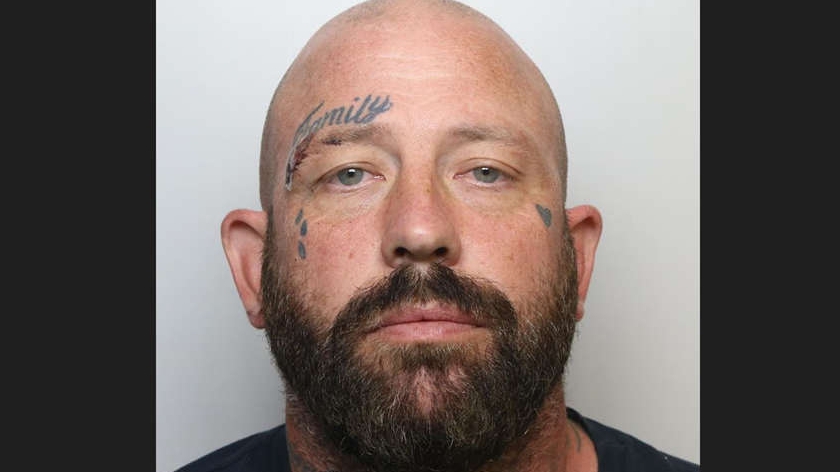 Image: Northamptonshire Police
A Milton Keynes man who attacked a woman in a Northamptonshire hotel before assaulting police when he was arrested has been jailed for over three years.
Charles Bigrigg, aged 43, admitted beating the victim while they were at a Travelodge hotel in Towcester Road, Old Stratford, in the early hours of Saturday, August 13, last year, inflicting injuries including severe facial bruising and burst blood vessels in one eye.
During his attack, two children also present in the room were able to escape and flee the hotel to seek help, flagging down passing motorists who dialled 999 alongside hotel staff.
Bigrigg fled the scene and was arrested in Deanshanger later that morning, going on to headbutt a police officer in the chest while in custody.
Bigrigg, of Tandra Beanhill, Milton Keynes, appeared at Northampton Crown Court for sentencing on Friday, March 24, after admitting one count of assault occasioning actual bodily harm and one count of assault against an emergency worker shortly before he was due to go on trial.
He was sentenced to 30 months for the assault on the woman, four months for assaulting the police officer, and six months for breaching an existing restraining order. The sentences were ordered to be served consecutively, making a total of 40 months, or three years and three months in prison.
Bigrigg was also given a 40-month restraining order preventing him from contacting the victim by any means.
Speaking afterwards, investigating officer Detective Constable Eleanor Hudson, said: "I am so pleased that Charles Bigrigg is now in prison where he belongs. His assault on this woman was vicious and sustained, leaving her fearing he had broken her jaw and cheek, and took place in front of her young children.
"His disregard for their welfare was despicable, but despite their fear the children tried to protect their mum. I believe their incredibly brave actions, including running for help, saved her from further and more serious injury.
"The strength of this woman throughout her ordeal and recovery has been remarkable and has ensured justice could be done. In supporting this prosecution she has shown selfless foresight that will no doubt protect others in the future, and I hope she can feel proud both of herself and her children for their resilience and courage.
"If you are, or have been, assaulted or abused in any way, please know that how you have been treated is not right, it is not your fault, and we are here to support you and help to get you justice."
The survivor, who is supportive of Northamptonshire Police issuing this release and custody image, added: "I'm pleased with this result which gives me and my family closure.
"My children and I are still traumatised by what happened that night, but hopefully now we can move on with our lives knowing he is in prison and cannot hurt us anymore."
Find out more about how to report domestic abuse and the support available here.
Reports can be made online or by calling 101, or 999 if a crime is in progress or life is at risk.