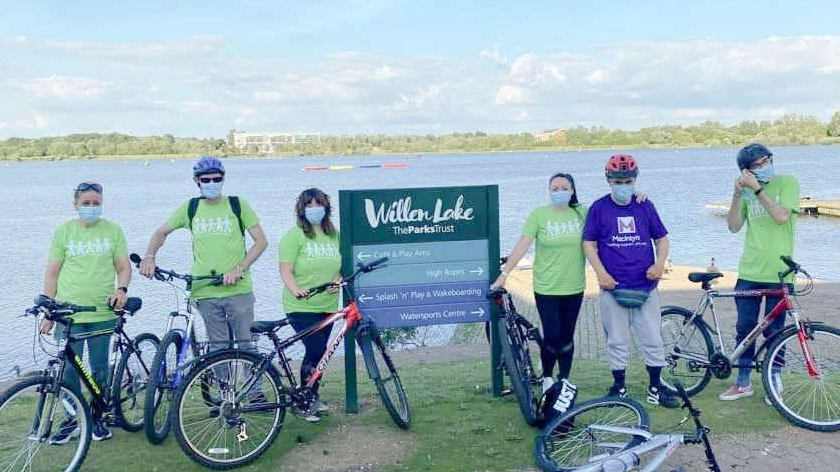 Image: MacIntyre
MacIntyre staff in Milton Keynes have completed a sponsored 10-mile cycling challenge for Milton Keynes Hospital's Learning Disability Team, raising over £1,000.
The team at MacIntyre say they wanted to make a difference after the year the hospital has experienced.
The funds raised by the group will purchase activity packs for people with a learning disability who are in the hospital and need comfort.
Julie, a Senior Practitioner at MacIntyre said: "We really felt for the people going into hospital alone without being with their loved one. We discussed this with Paul and Steve, who we support, and they said they would like to help to bring them some comfort.
"We wanted to raise money and help the learning disability team at the Milton Keynes Hospital."
We couldn't be prouder of our team from #MiltonKeynes and the people they support for cycling 10 miles and raising over £1,000 for Milton Keynes Hospital🥳️

More: https://t.co/aaIAgAIiT2#LoveMK pic.twitter.com/VfDjczSKmH

— MacIntyre (@meetmacintyre) August 13, 2021
The group started walking in their bubbles during the midst of the pandemic and it soon turned into group bike rides.
On 22nd July, the group set off on a 10-mile ride, completing a circular route starting and finishing at Great Holm in Milton Keynes.
Steve, who is supported by MacIntyre, said: "Wow, we raised lots of money to help people. We did it!"