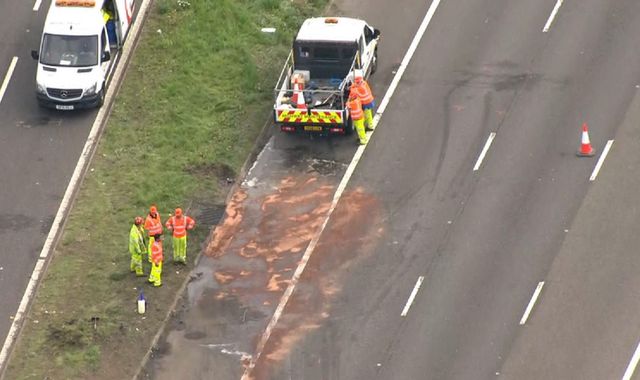 A lorry driver involved in a crash that killed eight people in a minibus on the M1 has been convicted of causing death by dangerous driving.
The jury reached unanimous verdicts against Ryszard Masierak, a Polish national, after almost nine hours of deliberations.
Another lorry driver, David Wagstaff, also faces eight counts of death by dangerous driving and four counts of serious injury by dangerous driving.
The jury will continue deliberations on these charges at Reading Crown Court on Wednesday.
The crash happened on the M1 at Newport Pagnell, near Milton Keynes, in the early hours of 26 August last year.
Cyriac Joseph, the 52-year-old driver of the minibus, and seven of his passengers were killed.
Another four passengers were seriously hurt.
Mr Joseph was taking the passengers - who had travelled to the UK from India - from Nottingham to Wembley Stadium to join a tour group for Europe.
After the crash, Mr Joseph's friend, Manu Zachariah, paid tribute to him - saying: "He was an extraordinary father, and would do anything for his friends. He was always there for us and will be really missed."
Three other victims were Karthikeyan Ramasubramaniyam Pugalur, Rishi Rajeev Kumar and Vivek Bhaskaran, who all worked for IT company Wipro.
Another Wipro employee, Mano Ranjan Panneerselvam, was critically injured.