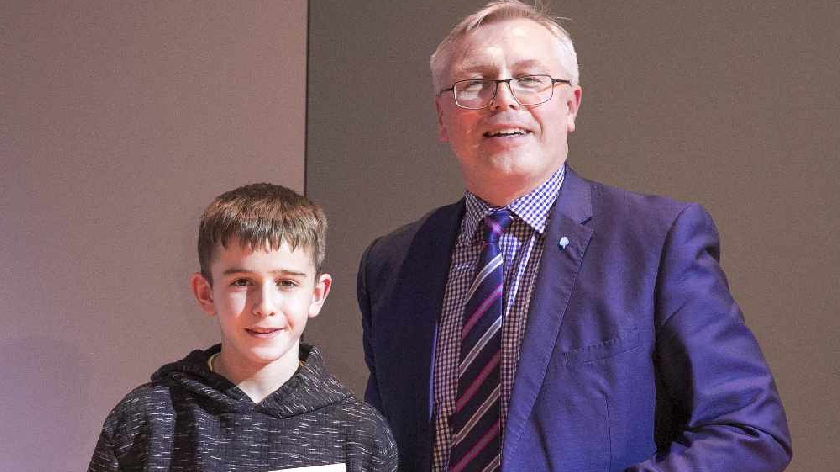 Milton Keynes Community Foundation is proud to partner with Sport MK to award a £2000 bursary to local squash athlete, James Kettle.
James, 14, is currently ranked number 10 in England's Under 15's and represents County and Southern Region at Under 15 level. James has also recently been the runner up in the regional Under 17's Championships and 4th in the English Junior Championships.
James ultimately aspires to turn his passion for squash into a career by making it to the professional ranks and hopes to represent his country at the highest level.
James intends on using the bursary to help him intensify his training; as he currently has to travel to Chesham several days per week for the level of coaching he needs. James will use the money to help with travel and to enter more overseas tournaments in order to experience a higher level of play that will ultimately help him to improve his game.
James is totally committed to his sport and plays or trains seven days a week, whilst keeping up with high academic standards at school.
James thanks Milton Keynes Community Foundation, for awarding him the bursary:
"I'm am truly honoured to receive this award. I see it as recognition of my hard work and dedication to my sport and it shows that anybody with the same hard work can achieve amazing things. I have had so many unforgettable experiences because of Squash – I have travelled to compete in Germany, Finland and all over the UK from Edinburgh to Newton Abbot and everywhere in between. I've won many tournaments – including becoming the South Regional U17 Champion and Buckinghamshire U17 Champion at the age of 13, finishing 4th in the English Junior Championships and many more.
I should like to thank MK Community Foundation for their faith in me and I hope that my story will inspire others."
James was awarded the bursary by Ian Revell, Chief Executive at Milton Keynes Community Foundation, at the Sport Achiever of the Year Awards at Denbigh School on 3rd December.
We wish James all the success in his future squash career and future competitions!