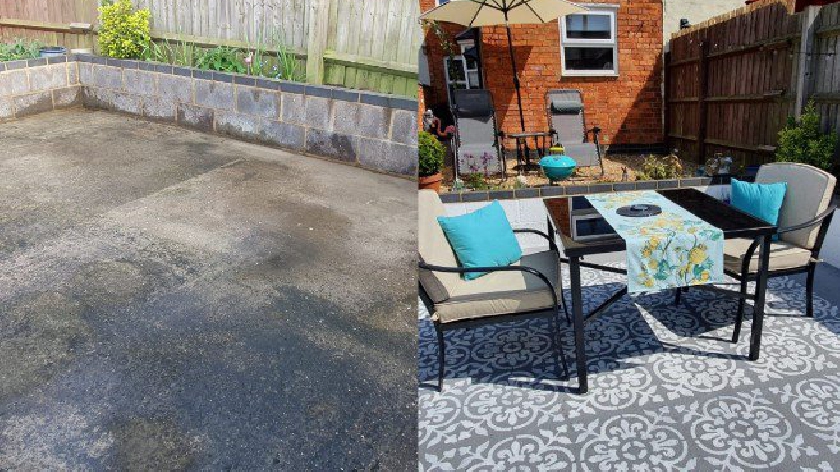 Victoria, from local blog Victoria's Vintage, has transformed her garden all for under £100 by using masonry paint and a stencil. Here's how she did it...
"I hated how our garden looked but I wanted to make it somewhere that we could relax and enjoy in the summer," said Victoria. "And after looking at various options to make it look better, painting and stencilling seemed like the best option!"
Painting the concrete
Victoria began by giving her patio three coats of paint using Dulux Weathershield masonry paint in 'concrete grey'.
She then painted the raised flower bed that goes around the edge of the patio using white masonry paint.
Stencilling the Concrete
Victoria used a Dizzy Duck Designs stencil and put it in place on the concrete with masking tape. She then used a kitchen sponge to dip into the white masonry paint and dabbed it over the stencil.
"You only need to use a tiny bit of paint because if you use too much then it leads to the paint bleeding beneath the stencil so you're not left with a crisp finish," she added. "Once you've finished painting your first stencil, slowly lift it and you should be left with a beautiful stencilled design! For the next tile, you can align the stencil pattern up with your previous one so that the pattern is repeated equally. And then continue this until you've completed your area!"
After each tile, Victoria recommends cleaning the paint from the stencil to prevent the paint from building up.
Sealing the Patio
Victoria has highlighted the importance of sealing the patio, using patio seal, once you have finished painting.
She continued: "It looks like blue milk when you open it, but once rollered on it created a layer of protection which you can feel is smoother and it stops dirt, dust and rain from ruining your paintwork. I applied four coats just to ensure maximum protection! It's been a couple of months now and we've had plenty of rain and I'm pleased to say that the patio is still in excellent condition!"
Check out the process below:
Have you undertaken a lockdown project? Let us know by emailing news@mkfm.com.
Source: Victoria's Vintage