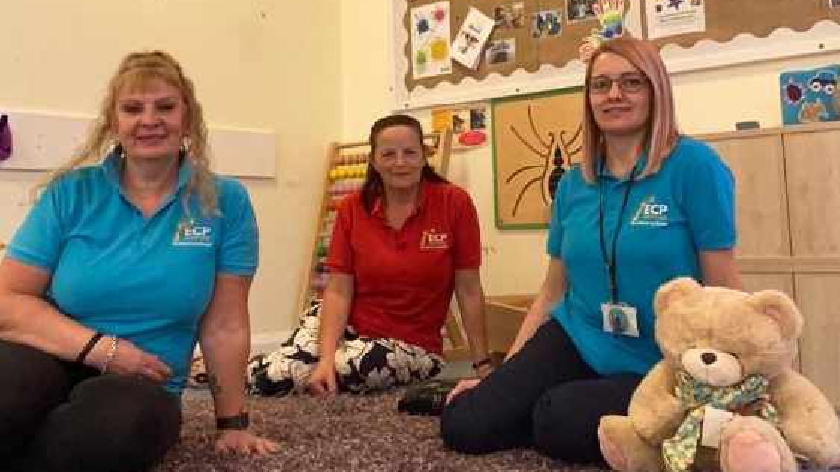 Staff and volunteers at Early Childhood Partnerships in Bedford have a received donation of £1,000 from the Amazon fulfilment centre in Milton Keynes.
Early Childhood Partnership (ECP) is a local charity set up for the sole purpose of delivering children's centre services in Bedford Borough. It is made up of five local organisations, including: Early Childhood Partnership, Families First Bedfordshire, FACES Bedford, Peter Pan Teaching School Alliance and One YMCA. Services are normally delivered from locally-based centres and community venues and include perinatal services, children's activities and parent support.
The donation will enable ECP to continue its support in the community, which helps to enhance child development, readiness for school and overall health. The funds will also support the charity's programmes to enhance parenting skills, aspirations and self-esteem.
The donation was made as part of the 'Amazon in the Community' programme, whereby the company supports the communities around its operating locations across the UK.
Shauli Ziv, General Manager at Amazon in Milton Keynes, said: "The services that ECP offers are invaluable and help to shape the minds, skills and lives of children, young people, and parents in our community. We are proud to be making this donation and we thank the staff and volunteers at ECP for their continuous efforts."
Helen Letting, Childrens Centre Manager, of Early Childhood Partnerships, added: "This donation from Amazon will contribute towards the wide range of services that we offer across our community. We rely on donations to sustain the support that we offer to parents and children in Bedford and we thank Shauli and his team for their donation."
Community donations is one of a number of ways in which Amazon is supporting communities across the UK during COVID-19.
Amazon has joined a coalition of companies, universities, and research institutions to boost testing capacity for COVID-19. Amazon's logistics network, along with Royal Mail, will deliver test kits to critical workers and diagnostic sites set up around the UK.
Amazon is also providing free online STEM resources to students in lower-income communities to enable learning to continue during school closures and is working with charity partner Magic Breakfast to ensure they can continue to provide free breakfast provisions to children in disadvantaged areas.
For more information on how Amazon is supporting the UK during COVID-19, click here.