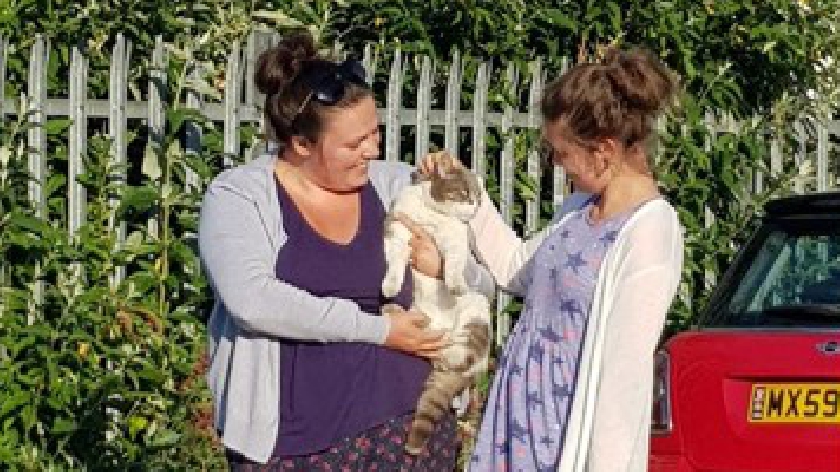 MK Cat Rescue has highlighted the importance of microchipping after a cat was reunited with its owners after being missing for three years.
It all started when MK Cat Rescue volunteer Nikki, received a call from her friend Lorraine Wasden, from Hedgehog Haven MK. Lorraine and her daughter Maddy had seen a cat visiting frequently nearby, they had a gut feeling this cat was lost. They asked Nikki to come out and scan this cat for a microchip, and when she did, they couldn't believe it when the scanner beeped.
Nikki soon contacted MK Cat Rescue to retrieve the chip details, which allowed her to inform the owner, Claire. It turns out her cat Tiggy had been missing for three years.
Claire said: "We are so happy, we are completely over the moon, I've cried about a million times! I just cannot believe that after all this time she has been found. I am really thankful to Lorraine thinking to get her scanned. And a thank you to Nikki for coming out to scan and contacting me! It does just show that clear message. Microchip your pets, keep your details up to date and anything can happen."
MK Cat Rescue, who have recently celebrated their five-year anniversary, is dedicated to helping cats in need across Milton Keynes. They are increasingly trying to raise awareness about the importance of microchipping.
Emma from MK Cat Rescue added: "Stories like these just absolutely fill your heart with joy. No one can underestimate the power of the microchip. It is such an inexpensive way of ensuring you can be reunited with your cats, if they sadly go missing.
"In recent years, the number of strays that are reported to us are not microchipped. They could be someone's family pet, but without the microchip it is almost impossible to be able to reunite them if that is the case. Owners taking responsibility for microchipping their cat should be a top priority as a pet owner."
Find out more about microchipping your pet here.