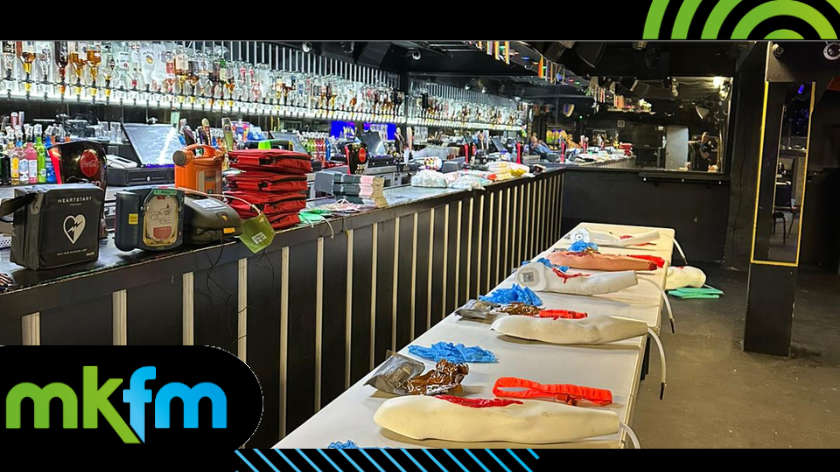 Cab drivers in Milton Keynes attended a training course arranged by local nightclub owners to learn how to act in the case of 'severe bleeding'.
Nightclub owners in Milton Keynes hosted and organised a 'Severe Bleeding Course' to teach organisations in Milton Keynes how to use a Bleed Kit and deal with stabbings and cases of catastrophic bleeding.
Pink Punters nightclub held the three hour course earlier this month and were joined by Milton Keynes City Council, Thames Valley Police, staff from MK Dons SET, Barwatch and drivers from 001 Royal Cabs.
Those taking part in the course learnt how to use a bleed kit in the event of catastrophic bleeding. The kits contain pressure bandages, tourniquets, a chest seal dressing and other medical equipment that can stop stab victims from bleeding to death.
Local dad, Jason Fathers, is currently working with the nightclub and partners to advocate for bleed kits around the city.
Jason Fathers lost his son in 2021 following a fatal incident. Jay Fathers, who was 18-years-old, was located with serious stab wounds after a 999 call and tragically died at Milton Keynes University Hospital of his injuries.
Jason hopes to get bleed kits in all community areas of the city.
Joe McMahon, qualified paramedic Joe Mahon and one of the owners of Pink Punters said: "Attendees on the course experienced a highly realistic mass casualty simulation exercise, which challenged the individual to practice their newly learned skills under real pressure."
A spokesperson from 001 Royal Cabs said: "The course around Catastrophic bleeding is very informative and we feel it's a vital piece of knowledge for everyone to know."
"We are hoping to have all of our drivers trained and will have bleed kits available in all our vehicles. We are also pleased to be continually working with the knife angel campaign to prevent knife crime in and around Milton Keynes.
"If you would like to learn more about the campaign and our safety systems feel free to email us on info@001royalcabs.com"
Last week, MK Dons SET announced it will be providing Bleed Kits to the community.
The not for profit Pink Punters Training Academy is offering advice on bleed kits and training, you can find out more here.