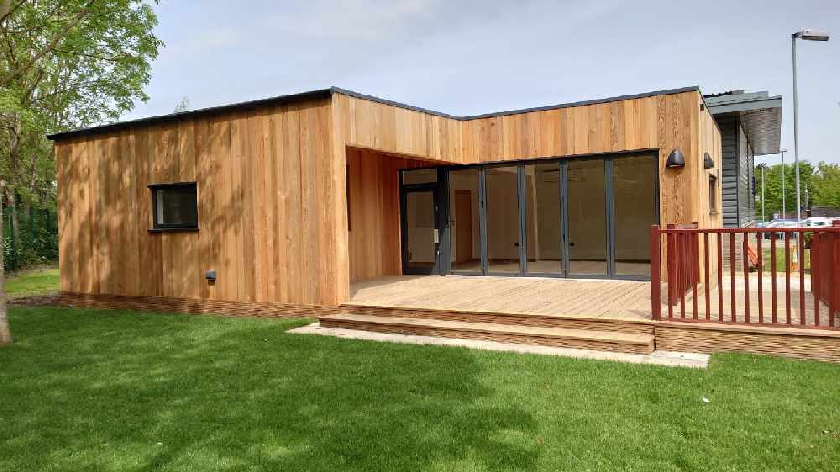 Milton Keynes Business Centre is set to open a new, eco-friendly cafe in response to feedback received from business customers on site.
The business centre, located in Linford Wood, offers workspaces and studios to nearly 100 businesses.
And the new Woodside Café will be opening on 9th July in response to a survey of customers, who asked for more communal space in the centre's grounds that would let them step away from their offices or workshops. It also revealed that customers desired a larger variety of healthy eating options, which the new Woodside Café will provide.
The pavilion's construction is a successful experiment in the use of off-site fabrication, which reduced assembly time from the 10 months that would have been required using traditional construction methods.
Specialist Midlands-based contractor, T.G Escapes Ltd, used sustainably sourced, low-carbon materials and a pre-fabricated timber frame construction. The pavilion also features an air source heat pump to maximise the sustainability of the building, producing three times the energy the pump consumes.
Matt Roberts, Milton Keynes Business Centre manager, says, "I am both very proud and excited to provide our customers and the local community with this wonderful new facility. Our focus is always to provide the very best environment for our customers' businesses to thrive. This new communal space encourages collaboration and promotes both physical and mental health, which is more important than ever.
"Throughout the past year, we've furthered our green mission by investing in roof-mounted PV panels, an eco-friendly car park, upcycling old pallets to create outdoor furniture – and now we've got an eco-friendly pavilion to add to the mix! This is a wonderful way to celebrate the end of a very difficult time for everyone."