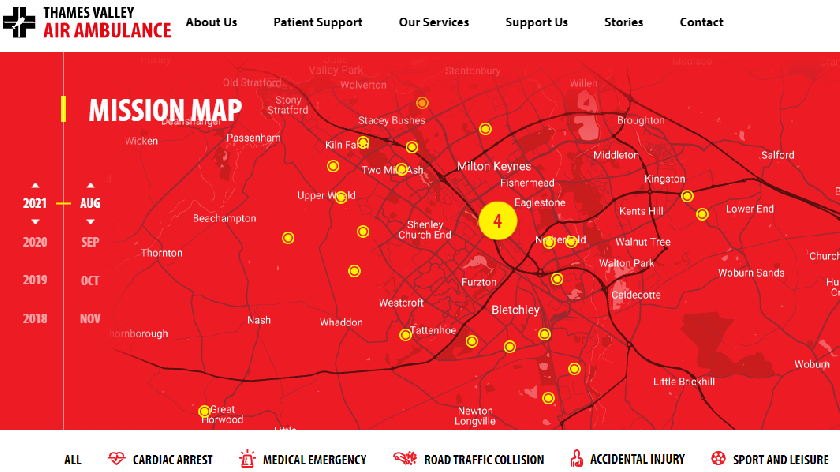 To mark Air Ambulance Week, Thames Valley Air Ambulance have launched a brand-new Mission Map. The map puts the public in the pilot's seat, giving them the chance to travel through the region and see the impact their support has had in the local area.
The interactive map, which features on the charity's website here, can be filtered by area and date range. It also comes with a data breakdown revealing the type of incidents that Thames Valley Air Ambulance doctors and paramedics have been to, as well as whether they arrived by helicopter or critical care response vehicle.
Kurtis Poole, Clinical Informatics Lead at Thames Valley Air Ambulance, said:
"At Thames Valley Air Ambulance, we collect data on everything so that we are constantly evolving to provide the best possible patient care. We wanted to share some of that data in our new Mission Map, to give supporters the chance to discover for themselves the impact of our crews in their area.
"Air Ambulance Week is the perfect time to remind people that we are a charity, and we couldn't do what we do without your support. Seeing the types of incidents our doctors and paramedics attend mapped out in this way shows that, by supporting Thames Valley Air Ambulance, you are helping to protect your community when the worst happens."
This week (6-12 September) is Air Ambulance Week, organised by Air Ambulances UK, when air ambulance charities around the country come together to raise awareness of the vital work their teams do, bringing critical care to people when they need it most.
Thames Valley Air Ambulance is joining other air ambulance charities in a campaign called Every Second Counts and Every Penny Matters. Air ambulance charities collectively make an average of over 80 lifesaving missions every day - over 30,000 a year. At Thames Valley Air Ambulance, every helicopter mission costs us £3,750. Supporting your local air ambulance charity will help us to continue bringing hospital-level care to patients when the worst happens. When every second counts, every penny really does matter.
Find out more about the life saving work Thames Valley Air Ambulance do in the local area via their website here.