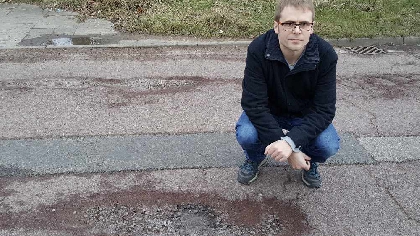 The new "turbo filler" spray injection patching machine can reduce the cost of repairing a pothole by up to 40% whilst taking approximately half the time of a conventional repair.
This will allow around 5000 extra repairs to take place by the end of May.
The Cabinet also agreed the test a new repair system where rather than simply fixing one deep pothole, whole "clusters" will be fixed regardless of depth to save money in the long term and improve the road surface, and shift more cash to repairing redways and pavements.
The extra cash will be funded by small amounts of underspent budgets and will not impact other services.
Cllr Martin Gowans, Cabinet Member for Highways said, "Our roads have taken a battering over the winter with heavy rainfall levels, and more recently the snow and freezing temperatures. Anyone who drives can see this has led to more potholes on the roads, especially in older areas like Bletchley and Wolverton but all over the city, and we are making funding available immediately to fix more potholes."
Cllr Peter Marland, Leader of MK Council said, "I'm pleased that we could announce this extra spending on such a major current issue at Cabinet. We've only been able to do this by ensuring we have balanced the books and brought in spending under budget. Strong, competent financial management means we can react quickly to issues like a spell of really bad weather causing more potholes, and listen to residents. Contrast that with what is going on in Tory-run Northamptonshire and the general state of roads outside MK."
Cllr Gowans concluded, "If anyone needs to report a pothole, they can do so on-line at the MK Council website. We have limited resources, so we'll never be able to fix every pothole, but by getting the basics right we can repair as many as possible, and this extra cash will go a long way to repairing the damage caused by the recent bad weather even more quickly"
Conservative Leader Cllr Alex Walker said, "A PR stunt about a "turbo filler" will not cover up the fact Labour are planning to scrap the 28 day repair period for potholes. More potholes, deeper potholes going unfixed on our roads for longer. "I won't hold my breath and neither will residents who are driving on roads getting worse by the day. The Council has a huge backlog, they have failed to properly use Government money, and meanwhile in the real world residents are paying hundreds of pounds getting tyres changed and cars repaired."