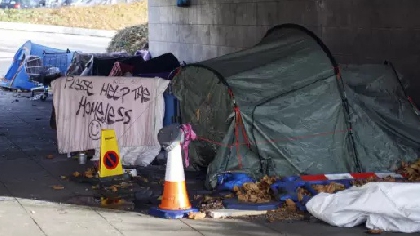 Meanwhile, leader of the council pledges a bed for every rough sleeper that wants one.
A war of words has broken out following last night's council budget meeting. The labour led council has earmarked £400,000 to help solve the rough sleeper issue in Milton Keynes promising ''a bed for everyone that wants one.''
The Conservatives had tabled an amendment for £2 million to be spent from the council reserve pot of £165 million.
Cllr Edith Bald said at last nights budget meeting, ''This £2 million amendment tackles one of the biggest issues facing this Council. The forgotten homeless, those for whom the council has no statutory duty.''
The conservative plan would have also supported; sofa surfers, single people with no dependents, men and women, the mentally ill, those with addictions including armed forces veterans who are alone, and need a roof over their head
Bald continued, ''Our plans include people who have a job but nowhere to live. It must feel to every homeless person out there that this council has turned its back on them. It is simply not good enough to use the excuse of government austerity, an excuse I have heard many times, too many times, in this Council Chamber.''
She continued, ''With £165m in reserve and many government grants there but for the asking…it is our duty, the duty of every single Cllr here to do more. We are witnessing human suffering on a large scale. The £400k allocated for street homeless in the budget is welcome but not enough.''
During the vote, both the Labour and Lib Dem rejected the Conservatives amendment to the plan but pledged that every rough sleeper who wanted a bed would have one.
In a statement to MKFM, the leader of the council Peter Marland said ''The budget already contains over £2m for homelessness, including £500k for helping rough sleepers. We are now offering a bed to any homeless person on the street who wants it and putting other support services in place. This is ongoing funding despite ongoing cuts of over £144m to MK Council. The real level of reserves if you discount money put aside for infrastructure projects, money we hold for schools and ring-fenced housing money is around £17m, and dropping below that would put us at risk of becoming like Tory-run Northamptonshire. It is typical of MK Tories that they'd play politics in such a pathetic way with this issue for a headline, given they voted against this extra funding, and last night they again showed themselves to be incapable of anything more than personal attacks and nasty politics.''
Conservative leader Andrew Geary said, ''Nasty politics. It was his lot who filled the public gallery with his momentum people last night to heckle and barrack. That isn't new money that he's out in the budget, this requires extra funding and they only included an extra £300k. All Marland can do is attack neighbouring Tory Authorities whilst not coming up with any new ideas of his own. When the underpasses are still full of rough sleepers in a years time when we gather for the budget meeting again I will take absolutely no pleasure in saying 'I told you so', I will believe when I see it.''
MKFM asked both our MP's and leader of the council last July to take part in a head to head debate to discuss this issue. So far neither side has agreed a mutually agreeable date and time to attend. Both MKFM and the Milton Keynes Citizen have agreed to jointly host the debate with questions from residents and the business community.