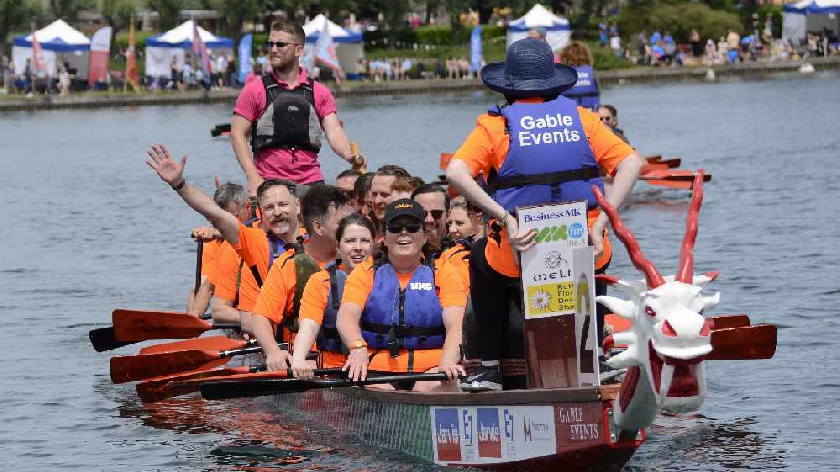 Gable Events and MacIntyre are celebrating Chinese New Year by inviting entries into the 18th Milton Keynes Dragon Boat Festival.
This popular annual event returns to Willen Lake in Milton Keynes on Sunday 23rd June and up to 50 crews are expected to battle it out in 40' brightly painted Chinese dragon boats over the 200m race course, watched by several thousand spectators. The Festival is supported by Business MK and MKFM.
An ancient Chinese history
Dragon boat racing has an ancient Chinese history, dating back 2,000 years to the Kingdom of Chu, where local fishermen used their paddles to stave off vicious fish in a valiant attempt to save drowning warrior poet Qu Yuan. Their efforts failed and in Hong Kong a Dragon Boat Festival (Tuen Ng) is held annually as a re-enactment of this tragic event.
Year of the Pig
According to the Chinese Zodiac, 2019 is the year of the Pig. People born in this year are believed to be energetic, enthusiastic and blessed with good fortune – all important qualities for achieving dragon boat success in June!
Team building and fun for all
This spectacular team event takes place at Willen Lake in Milton Keynes on Sunday 23rd June and is open to everyone. Each crew comprises up to 16 paddlers, a beating drummer at the front of the boat and a steering helm (provided by organisers, Gable Events) at the tail end. The dragon boats and all racing equipment are provided, each team receives three races and no previous experience is required, just plenty of team spirit! The Festival promises a fantastic day for competitors and spectators alike, with catering and bankside entertainment for all the family between races.
A great fundraising opportunity
The Dragon Boat Festival offers an excellent opportunity to raise money for MacIntyre, a national charity based in Milton Keynes that supports over 1,200 children, young people and adults who have a learning disability or autism. For crews opting for the popular gold and silver entry packages, a significant donation to MacIntyre is included in the entry fee alongside marketing benefits such as the company logo on the sides of a dragon boat. The crew raising the most money for MacIntyre will receive a special prize meal at the acclaimed Melis Restaurant, sponsored by Merinvest – a great incentive!
Festival charity - MacIntyre
Head of Fundraising, Claire Kennedy comments, "MacIntyre is delighted to be the official charity for the 2019 Milton Keynes Dragon Boat Festival. Financial constraints in the social care sector mean that income we receive from fundraising is more important than ever. We use fundraised income to buy the extras that make a real and tangible difference to the people we support. Every penny received will go directly to benefit the people we support; nothing is deducted for administrative costs."
How to join in
For further information and an entry form please visit www.dragonboatfestivals.co.uk/miltonkeynes or call Gable Events on 01780 470718. For information about MacIntyre, visit www.macintyrecharity.org or call 01908 230100