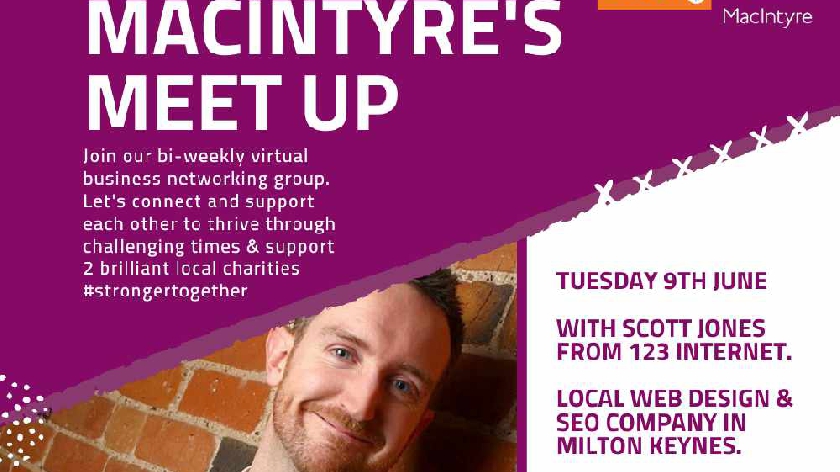 MacIntyre's Meet Up is a fortnightly virtual business networking group, open to any individual or business, with all proceeds being split between local charities MacIntyre and The Bus Shelter MK.
The virtual meet up moves from weekly to fortnightly as MacIntyre continue to evolve and support our business community who start to get back to work and some sense of normal.
MacIntyre's Meet Up is a bi-weekly virtual business networking group designed to connect and support local business, individuals and community groups to thrive through these challenging times.
Lorraine Devereux, Events and Corporate Fundraiser at MacInytre says, "We have a brilliant guest speaker at our next Meet Up (Tuesday 9th June), Scott Jones from 123 Internet Group, and what Scott doesn't know about social media, digital marketing, website design and growing your business probably isn't worth knowing so a great opportunity for people in MK to join us and ask questions and pick up tips as well as supporting us and the Bus Shelter."
MacIntyre's Meet up runs every other Tuesday 9.30 - 10.15am, costing £3 per time with all proceeds shared between MacIntyre and The Bus Shelter MK.
MacIntyre provide learning, support and care for more than 1,200 children, young people and adults who have a learning disability and/or autism at locations across England and Wales, including Milton Keynes. With the charity having to cancel a number of fundraising events during these times donations and connections are more vital than ever.
Book your place at the next MacIntyre Meet Up and find out further details by emailing lorraine.devereux@macintyrecharity.org.