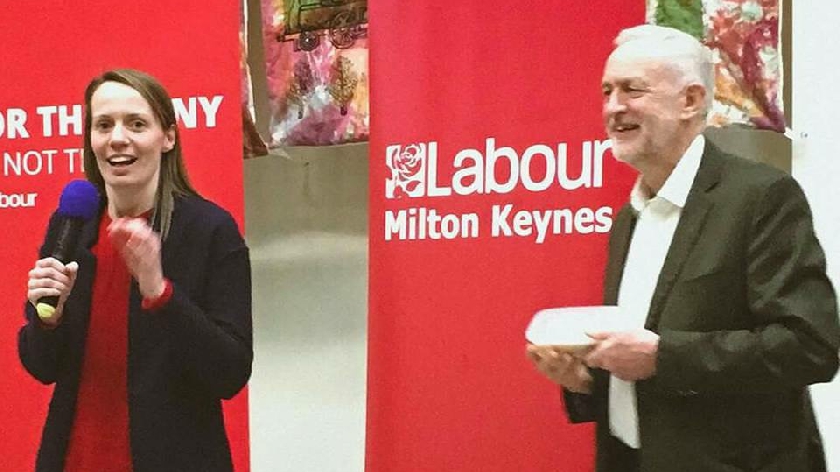 The Leader of the Labour Party Jeremy Corbyn visited local party members on Thursday to launch the Milton Keynes Council election campaign, but there are accusations he failed to attend the associated media event due to the anti-Semitism row.
Corbyn spoke at a rally of Labour Party activists about the importance of local government, and how the local Labour-led council was 'picking up the pieces after £144m of cuts to MK Council'.
He also spoke about the parties promise to end street homelessness by 2021, and build 500 more new council houses by 2022.
But the visit was marked by controversy after media reporters, including Channel 4's Michael Crick, claimed he missed a public media event at a local building site.
The Channel 4 Political Correspondent tweeted: "Workers at social housing building site in Milton Keynes this afternoon waited 2 hours in the rain for Jeremy Corbyn this afternoon, but he didn't turn up. It seems he was worried about TV crews there waiting to ask about Shawcroft & anti-semitism. Or is there another reason?"
Local Labour Party figures have told MKFM that the building site visit was cancelled due to the poor weather, and have said that "as the site was outside and the weather was really poor, unfortunately that part of the visit had to be cancelled. Jeremy was going on to another visit by train afterwards and a wet, muddy building site wasn't a good call at that time, which he was disappointed about I believe".
Labour currently holds 22 seats on MK Council, with the Conservatives also holding 22 and the Lib Dem's 13. Labour figures are hoping to make gains in seats such as Tattenhoe this time.
Hannah O'Neill, Labour Deputy Leader of MK Council said: "It is great to have the Labour Party leader here in Milton Keynes to launch our local election campaign. Since 2014 the Labour-led council has put MK back on the map."
"We've pushed forward with an ambitious vision for the future of the city with MK Futures 2050 and we've only recently launched plans for a £500m university in CMK."
"But we've also balanced the books and kept MK Council financially secure despite £144m of cuts, and we've done that while keeping weekly bin collections, not closing and single library and keeping every children's centre open. We've also put in place new services to tackle homelessness."
"Now we want to go further. Our promises are to end street homelessness by 2021 and build 500 more council houses by 2022. Over the coming weeks we'll be setting out more detail of our ambitious vision for MK and the choice people have in the May local elections."
Cllr Peter Marland, Labour Leader of Milton Keynes Council said: "Mr Corbyn highlighted the choice people have in the local elections between a local MK Labour Party which has fought £144m in cuts to MK Council, but is still ambitious for the city while protecting services, and the local Tories who would put the financial future of MK Council at risk, are in denial about cuts and have nothing to say on the future of the city."