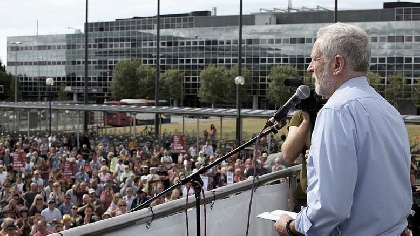 Labour leader Jeremy Corbyn will hold a rally next Monday 14th August as part of his nationwide tour of marginal seats.
Mr Corbyn is travelling the country visiting seats with slender Conservative majorities. After the election in June, both Milton Keynes constituencies are key targets for Labour. Over 20,000 votes were added to Labour's 2015 totals with candidates in both the north and south of the city narrowly missing out to the Conservatives.

One of the highlights of that election was the large open air rallies held by Jeremy Corbyn. Hundreds of thousands of people attended events across the country to listen to him speak. The rallies have been highlighted as a key reason so many young people have been energised into getting involved in politics.

Now the people of Milton Keynes are invited to a rally here on Monday 14th August, starting at 4.15pm. People can register to attend by clicking here.