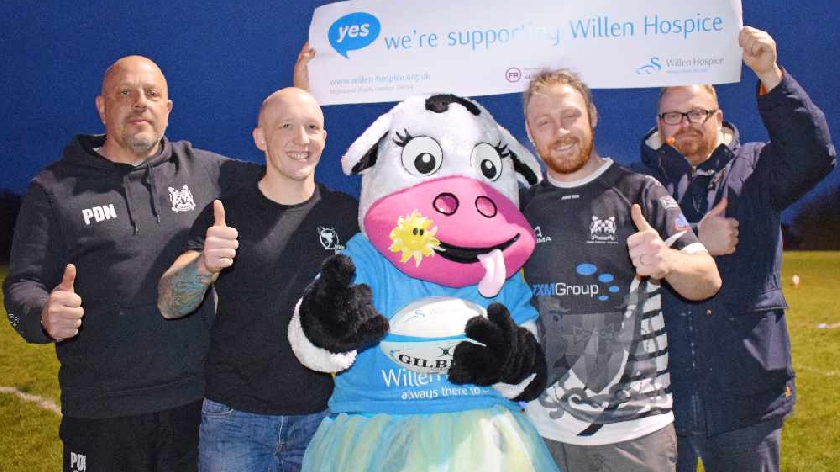 Willen Hospice has teamed up with Milton Keynes Rugby Football Club (MKRUFC) to launch the Men's MK Midday Moo walk; a brand new event exclusively for men.
It takes place on Saturday 22 June 2019 at 12 noon and follows a seven-mile route from the Hospice to the Rugby Club in Emerson Valley.
The introduction of the Men's Moo follows the success of the Hospice's longstanding MK Midnight Moo, held for ladies each summer. The men's event comes in response to requests from dads, husbands and boyfriends for a similar fundraiser.
Sarah Sweet-Rowley, Associate Director of Community Development said: "Move over girls - the roles have been reversed and at last the men get a chance to Moo! Every year men ask if they can walk the Moo and this year we've made that happen by giving them an event of their own. You don't need to be sporty to take part. It's not a race but a chance to enjoy a walk and time together with friends whilst fundraising for a great cause. There will be a fantastic atmosphere – we can't wait to see lots of men there."
The Men's MK Midday Moo route will take in two pub stops along the way, and the Big Food Festival will be in full swing when the walkers arrive at the Rugby Club. Everyone who takes part will receive a finishers t-shirt.
Gary Spinks, MKRUFC said: "We are thrilled to be involved with the inaugural Men's Midday Moo. We expect a large number of our membership and friends of the club to attend along with an equally large number of young adults. It will be a great experience for all."
Kim Ford, Events Manager at MKRUFC, added: "Our partnership with Willen Hospice is highly valued, and our involvement with this event is a continuation of many years of positive collaboration and co-operation with the Hospice community team."
The event is open to all males over 14 years old. Registration for the walk is £20 each, which covers the cost of the event. Walkers are encouraged to fundraise as much as they can to help the Hospice raise additional funds.

The Men's Midday Moo is in addition to the ladies' MK Midnight Moo which will take place on 13 July. Ladies who haven't yet signed up are invited to join the ten-mile midnight walk, or new Half-Moo, through Milton Keynes.

Willen Hospice needs to raise £4.7 million a year, that's £9 a minute to continue caring for patients at the Hospice and in the community.
For more information and to book for the Men's MK Midday Moo, visit www.willen-hospice.org.uk/mensmoo