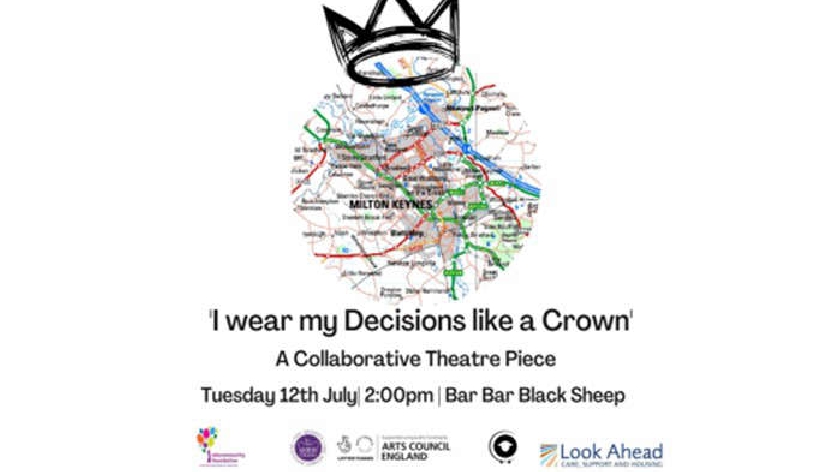 Members of the public are being invited to an innovative arts performance featuring young people in Milton Keynes.
The performance, taking place on Tuesday 12th July at 2pm at The Market Square outside Bar Bar Black Sheep Arts Bar and Coffee Shop in Wolverton, will be a new piece of theatre and the culmination of work over the past last few months from arts organisation Black Sheep Collective CIC, together with young people from Look Ahead Care and Support's services in Milton Keynes.
Look Ahead supports a range of young people who are homeless or at risk of homeless to move onto independence. 'I wear my Decisions like a Crown', depicts the decisions made by the young people and their journey before becoming Look Ahead residents and seeking new opportunities.
The piece is part of the national Platinum Jubilee celebrations and was funded by Milton Keynes Community Foundation and Arts Council England. The piece explores how to build new communities and find a sense of self in a new place. The themes and ideas depicted in the piece are fictional representations of conversations had with the young people during the devising process.
The project has brought the young people together to re-tell and explore their experiences, and the commonalities they share with each other. It has also built the young people's confidence, self-esteem and provided the service staff at Look Ahead another opportunity to better connect with their customers.
Look Ahead's Milton Keynes Young People Service Manager, Emma Osei-Lah, says: "The young people we work with have really enjoyed the experience using art to help them address some of their previous life experiences. They're all really looking forward to the performance and we'd love to see members of the public come along."
Lynn Gradwell, Director of Young People and Care Leaver Services says: "On behalf of lookahead and the Young people we support, I would like to thank Milton Keynes Community Foundation and Arts Council England for funding this project. This fund has enabled us to work in partnerships with Black Sheep Collective CIC, and Young People, to give young people an opportunity to find and use their voices, support each other and build that sense of community together which is so vital and important".
After the performance, there will be free refreshments of cake and coffee served at Bar Bar. This will be a great opportunity to connect and network with local stakeholders and the young people themselves.
To RSVP a place and find out more about what Black Sheep Collective CIC does email Georgia, Director of Theatre and Outreach on georgia@blacksheepcollective.co.uk
About Look Ahead
Look Ahead is a leading provider of care and support services working with a range of customers across London and the South East of England.
The organisation has almost 50 years of experience in delivering young people, mental health, learning disability and homelessness services. Look Ahead also works with people to make choices, achieve goals and take control of their lives through high-quality care, support and housing. Local authorities and the NHS commission services from Look Ahead to enable customers to thrive within communities.
About Look Ahead's Young People's Services
Look Ahead delivers a wide range of young people services including provision for looked after children and care leavers, supported housing and parent and child schemes and unaccompanied asylum-seeking children.
They currently provide around 26 specialist young people, semi-independent living and care leavers' services, supporting hundreds of young people including unaccompanied asylum-seeking children with increasingly complex needs, helping to transition them to adulthood.
A unique part of Look Ahead's offer is that many of the organisation's services are run from its own properties ensuring delivery of high quality services.
Look Ahead works in partnership with customers to design their support plans. Look Ahead staff do all they can to enable customers to stay within their care including managing high risk cases. Look Ahead's approach supports young people and care leavers, encouraging independence and developing life skills needed in adulthood. This includes providing a range of training and support specifically looking at gang violence, forming heathy relationships, education and training, and rebuilding family relationships where appropriate.