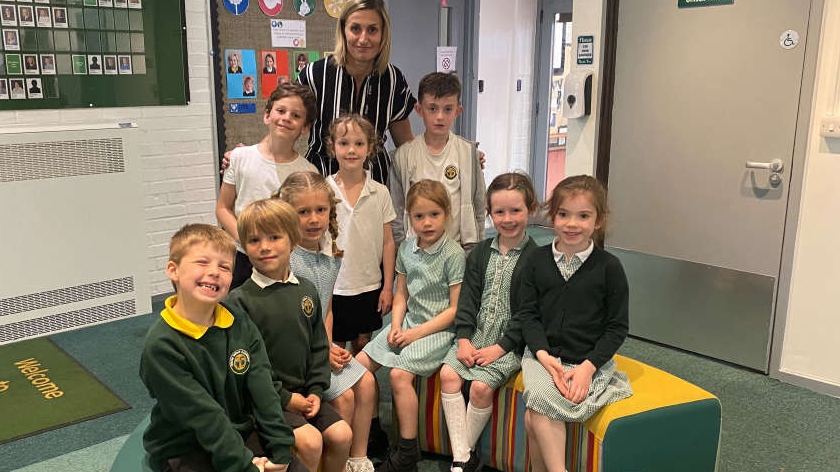 Olney Infant Academy has been judged Outstanding by Ofsted following a recent visit by inspectors.
The 215-pupil school, which caters for children aged four to seven, received the Outstanding grading across all five categories: quality of education, behaviour and attitudes, personal development, leadership and management, and early years' provision.
It is the first time the academy has been inspected since joining the Inspiring Futures through Learning (IFtL) multi-academy trust in 2017.
During the visit, the inspection team met pupils, staff, senior leaders including Headteacher Sarah Armitage, governors and members of IFtL.
"At Olney Infant Academy we are absolutely committed to creating a culture of excellence, where every child thrives," Sarah said. "Our desire is to ignite passion and excitement and set our children on a journey to be lifelong learners, so for Ofsted to state in the first line of the report that pupils' love of learning stands out as the key feature of the school makes me incredibly proud.
"Since joining the school as Headteacher in 2020, we have established a clear ethos and values-driven approach, completely renovated our learning environments inside and out, and there is no part of our grounds that has not been developed. Our curriculum is new, fresh, and now fully embedded in the school we are reaping the rewards from that."
Sarah is now setting her sights on further consolidation in her school and sharing that practice more widely. "Everything we have put in place has been the result of a discussion as to 'why' we are doing it and whether it will have a positive impact on the children," she explained.
"It has to support pupils' love of learning, and cater for the needs of every child, and the Ofsted report specifically recognises the results of this on SEND pupils and disadvantaged pupils. It is fantastic to see the report reflect our parents' delight at what we offer their children and we also have an ambition to open our doors to the wider community, including other schools, to share what we do."
Katrina Rodden, Chair of the Joint Governing Body of Olney Infant Academy and Olney Middle School, said. "I am thrilled with this Ofsted report, and would like to congratulate Sarah and her fabulous team on this wonderful outcome. When I read phrases in the report such as 'pupils are enthralled when listening to their teachers read to them', 'pupils develop characteristics that provide a springboard for future lives', and 'staff develop pupils' talents and interests very well', it fills me with an enormous sense of pride.
"This is the real impact of everything we have put in place as a school; ensuring an excellent educational experience and making a difference to children's lives from the word go. I would like to thank my colleagues on the local governing body for their strong support and challenge to leaders, as well as their rigorous approach to safeguarding."
Sarah Bennett, CEO of IFtL, said: "The IFtL family of schools, including Olney Middle School who share the onward learning journey for many of the pupils in the local community, is absolutely delighted to congratulate everyone within Olney Infant Academy on such a strong and uplifting report.
"That the care, values and dedication of the school to providing outstanding opportunities for all its pupils and community are recognised and celebrated makes me so proud. The report not only reflects the ambition the school has for every single pupil, it absolutely shines through in everything they do."