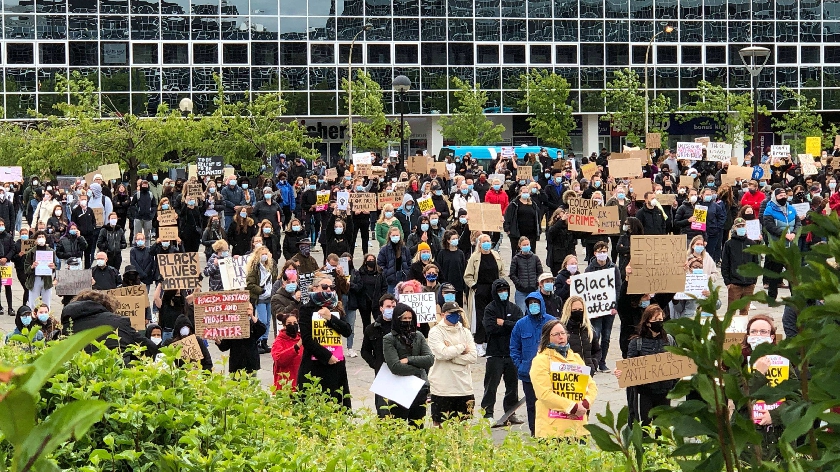 Hundreds of people have gathered at Milton Keynes Station for today's Black Lives Matter event, with attendees praised for 'excellent' social distancing.
Crosses were chalked onto the ground to ensure that social distancing could be maintained by all attendees.
The 45 minute event at the station included speeches, chants of 'I Can't Breathe' and 'Black Lives Matter' as well as protestors 'taking the knee' in silence.
READ MORE: Black Lives Matter protestors gather outside Milton Keynes Police Station as officers 'take the knee'
READ MORE: Protestors gather at Milton Keynes Station as Black Lives Matter event gets underway
Placards were seen bearing slogans including 'Black Lives Matter', 'I Stand With You', 'No Justice, No Peace' and 'The UK is not innocent'.
Check out our photo gallery of the event here:
Although it was originally planned for the protest to be a walk along Silbury Boulevard, organisers have now said the protest will now be a 'standing protest' at Station Square only.
Event organisers posted on Facebook: "Whilst I would love to scream and shout for the cause down Silbury Boulevard, there is no way to ensure social distancing will be maintained through out, and as people are moving, it'll be even harder to keep on top of."
"I also want to make sure the protest is accessible to everyone, especially those with mobility issues and little children."
"I know this may be disappointing to a lot of you who wanted to march (and it is to me too) but I have tried to balance protesting and limiting everyone's exposure to the virus as much as is physically possible and the best way to do that is keep it short and sweet!"
"There will be clear two meter distance markings and stewards to make sure that we're all away from each other. It's also supposed to rain so wear raincoats, bring umbrellas and a bin bag/camp chair if you'd like to sit down."
Protestors have been told to wear masks, bring water and follow social distancing rules.
It comes as Health Secretary Matt Hancock yesterday told people to avoid protests and mass demonstrations due to coronavirus restrictions.
Mr Hancock said: "Like so many, I am appalled by the death of George Floyd and I understand why people are deeply upset, but we are still facing a health crisis and coronavirus remains a real threat."
"The reason that it is vital that people stick to the rules this weekend is to protect themselves and their family from this horrific disease."
"So please, for the safety of your loved ones, do not attend large gatherings, including demonstrations of more than six people."