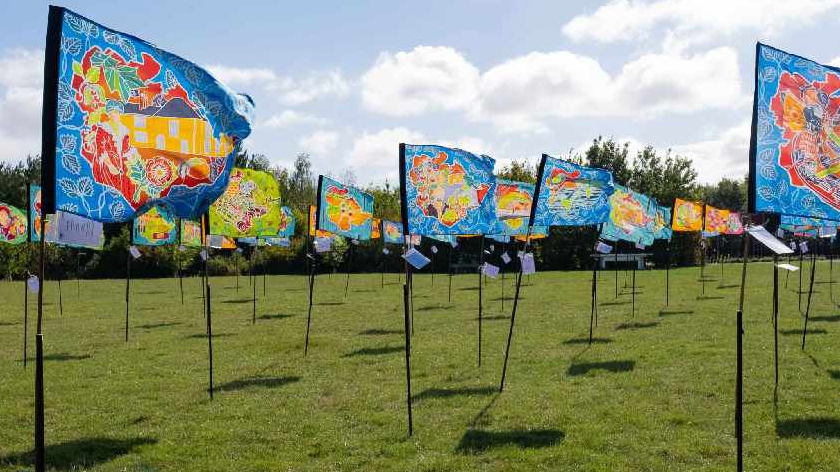 The city's biennial arts festival has recently announced that six distinctive installations will be available at different locations throughout Milton Keynes for locals to enjoy this summer for free.
For 21 days from 10 to 30 July, Milton Keynes will be host to a number of innovative and imagination-catching artworks as part of IF: Milton Keynes International Festival 2021.
The festival will return to the city's parks, green spaces, public squares and larger retail spaces with a variety of family events, pop-up performances and digital programmes.
The six brand-new artistic events coming to select areas across Milton Keynes this summer are as follows:
Gaia by Luke Jerram - Gaia is a stunning replica of our planet, measuring seven metres in diameter and featuring 120dpi detailed NASA imagery of the Earth's surface.
The artwork provides the opportunity to see our planet on this scale, floating in three dimensions. The artwork is 1.8 million times smaller than the real Earth with each centimetre of the internally lit sculpture describing 18km of the Earth's surface.
The installation creates a sense of the 'Overview Effect', which was first described by author Frank White in 1987. Common features of the experience for astronauts are a feeling of awe for the planet, a profound understanding of the interconnection of all life, and a renewed sense of responsibility for taking care of the environment.
Breathing Room by Anna Berry - Breathing Room is a new kinetic installation - a beautiful and delicate large-scale artwork that people can walk within.
Framed by an intriguing mechanical exterior, the illuminated tunnel-like structure invites audiences to travel through its gently moving interior for a unique multi-sensory immersive experience. Tens of thousands of paper-like cones line the tunnel and will move as if the structure is breathing, powered by ingenious mechanics, creating an otherworldly experience.
The Woodpeckers by Marco Barotti - Charming robotic woodpeckers will transform invisible signals in real-time from wireless technology and mobile communication, into audible and visible acoustic rhythmic beats, tapped out on the City's urban architecture.
Popping up and flocking unexpectedly in locations stretching from Station Square to centre:mk, The Woodpeckers will create a live soundscape, unique to Milton Keynes, which undergoes constant transformation and variation.
Arrivals + Departures by Yara + Davina - Arrivals + Departures is a public artwork about birth, death and the journey in between, created by artist duo Yara + Davina.
Taking the recognisable form of an arrivals and departures board, the artwork displays names of people, submitted by the public, as a way of celebrating and commemorating a birth (an arrival) or a death (a departure).
Located in City Square, these nostalgic display boards capture the joy and sadness of any arrivals hall or departure lounge. Visitors and passers-by will be able to contribute names in-person to Festival Stewards or online.
MK Mandalas by Kinetika - Internationally renowned UK company Kinetika is working with over 150 people from community groups in Milton Keynes to create a set of 30 large-scale, hand-painted silk flags for display at The Milton Keynes Rose.
Participants have been working with Kinetika's lead artist Lisa Meehan and two Milton Keynes textiles artists - Jane Charles and Ciara Callaghan - to create flag designs.
The Milton Keynes Rose in Campbell Park, which used mandalas to inform its distinctive circular design, has provided the inspiration for MK Mandalas. In their most basic form, mandalas are a geometric configuration of symbols used in spiritual traditions, as a guidance and meditation tool.
Museum of The Moon by Luke Jerram - As the sister artwork to Gaia, the Museum of the Moon will be set outdoors within Milton Keynes' spectacular Tree Cathedral.
Measuring seven metres in diameter, the moon features 120dpi detailed NASA imagery of the lunar surface. At an approximate scale of 1:500,000, each centimetre of the internally lit spherical sculpture represents 5km of the Moon's surface.
The installation is a fusion of lunar imagery, moonlight and surrounds sound composition created by BAFTA and Ivor Novello award-winning composer Dan Jones.
For more information about how you can experience the upcoming festival, you can click here.
READ MORE - IF: Milton Keynes International Festival will take place over 21 days this year