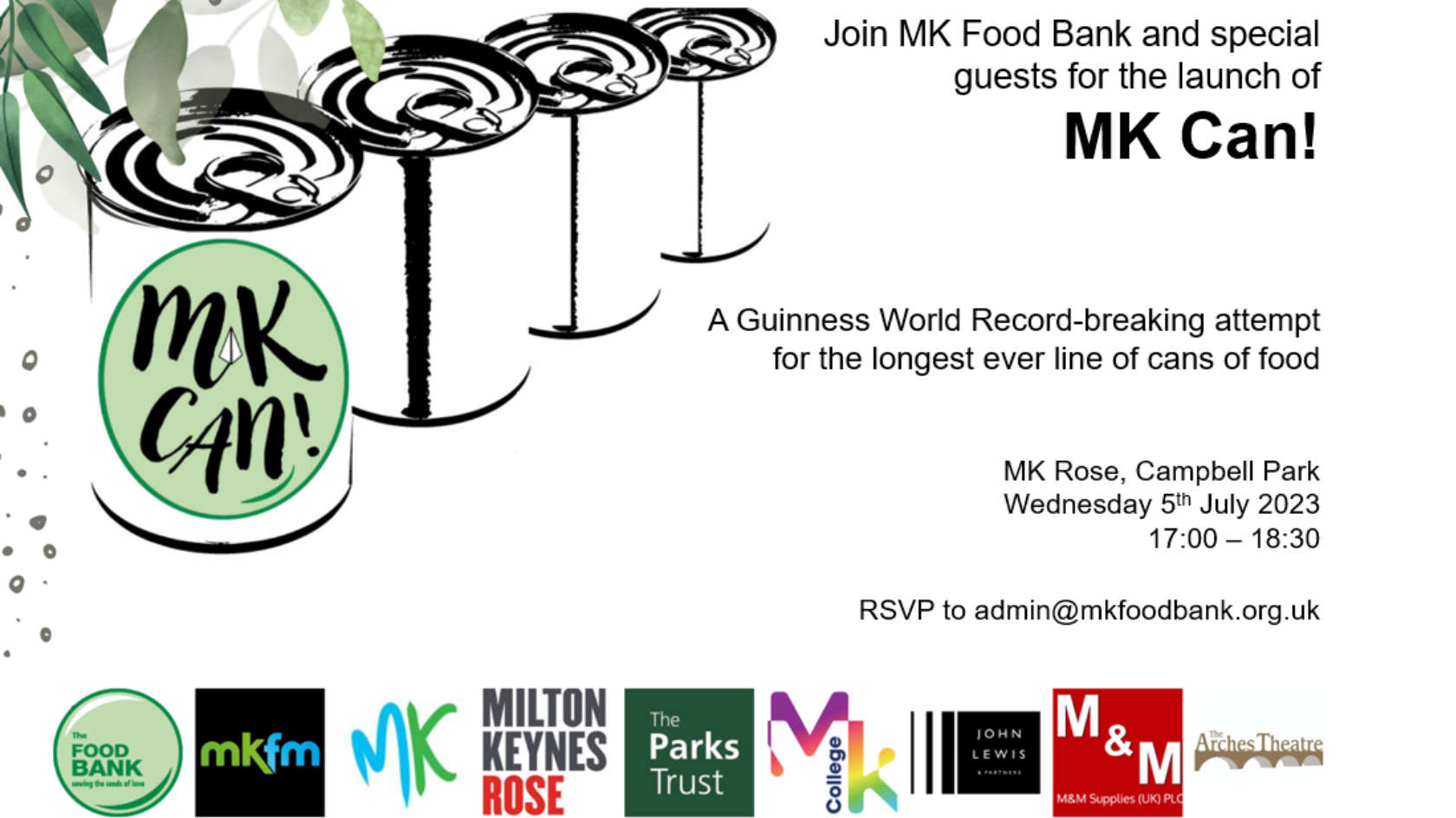 A huge world record attempt is set to take place in Milton Keynes later this year, with MK Food Bank hoping to put the new city on the international map.
MK Food Bank is set to mobilise the Milton Keynes Community in a bid to break the Guinness World Record for the longest continuous line of cans of food.
The event will take place on World Food Day, Monday 16th October, and Milton Keynes will attempt to line up 132,000 cans at Campbell Park.
The 10k route will wend its way round Milton Keynes' Campbell Park, the city's green heart, starting at The World Food Day Pillar at the iconic MK Rose, with all of the food then going to the food bank to help feed people across the city.
MK Food Bank hopes the attempt will attract wide-reaching, positive publicity for Milton Keynes, and put our new city on the international map.
"The inspiration for attempting the record came from a chance conversation with a radio DJ last year who suggested it would be good way to engage the community. On further investigation we realised we had a very ambitious record to beat – in 2021 a Food Bank in Cape Town made a continuous line of over 90,000 cans! Once we got over the initial shock, we realised this would be a brilliant way, not only to collect a massive amount of food, but to mobilise the whole Milton Keynes to come together as a community.
"We've chosen to go big - creating a 10km line of cans in Campbell Park, on Monday 16th October which is World Food Day. If we are successful, this will generate around 130,000 cans of food – around half the tins we need to supply our emergency food parcels for a whole year. To do this we want 400 business and community groups to help us by adopting a section of the line each, collecting the cans and helping us smash this record for Milton Keynes.
"At the launch, we will reveal all the details and let people know how they can sign up,"
Next month, MK Food Bank will officially launch the event, where it will appeal to hundreds of businesses, schools, communities and parish councils to help.
Can you help? Find out more here.