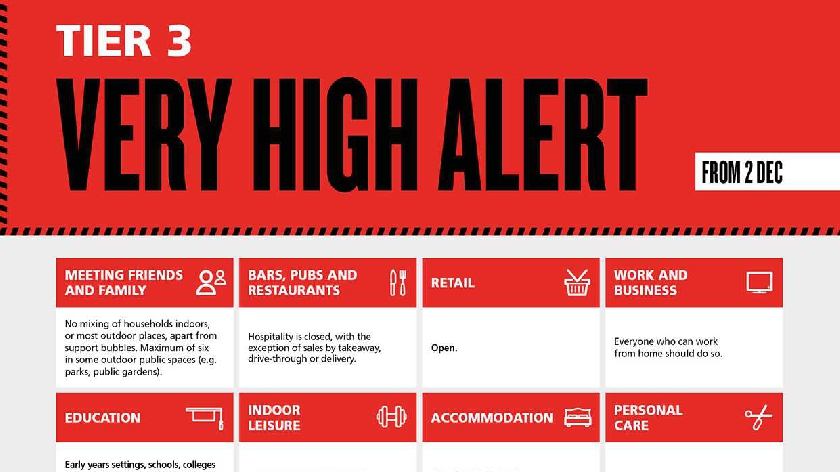 It has now been confirmed that Milton Keynes will move to Tier 3 - the highest level of coronavirus restrictions - from this coming Saturday.
The move was announced in a statement by the Health Secretary Matt Hancock earlier today.
But a lot of people are already asking what happens next.
We've tried to answer some of your most asked questions below.
How long will Milton Keynes be in Tier 3 for?
The next review of Milton Keynes coronavirus tier will be on 30th December, and then there will be a further review on 13th January.
Milton Keynes therefore has the opportunity to leave Tier 3 restrictions in the next two weeks.
However, it is so far proving difficult for areas to leave the highest rate of restrictions.
Only two areas moved down a tier at the government review today - with Bristol and North Somerset moving from Tier 3 to Tier 2 and Herefordshire moving from Tier 2 to Tier 1.
In Bristol and North Somerset, rates fell from 432 cases per 100,000 people to 121 cases per 100,000 people to enable them to move down to Tier 2 from Tier 3.
In comparison, latest data shows Milton Keynes currently has a case rate of 332.1 cases per 100,000 people.
What will determine if Milton Keynes can move back to Tier 2?
The government say they will use a combination of five metrics to determine the tier for a particular area.
It includes case detection rates for both all age groups and the over 60s specifically - as well as the rate at which cases are rising or falling and the percentage positivity rate of tests.
Consideration is also given to any pressure on the NHS locally.
In addition, tiers are generally being reviewed on a local health area level - which for Milton Keynes includes the neighbouring areas of Central Bedfordshire, Bedford and Luton.
Milton Keynes currently has the highest rate in our health area - with Central Bedfordshire having a case rate of 259.8, Bedford having 240.1 and Luton having 320.6.
However, in some cases areas have been split at the tier review - for example Peterborough was split out from Cambridgeshire today.
MKFM will keep you up to date with all the latest developments as we get them.