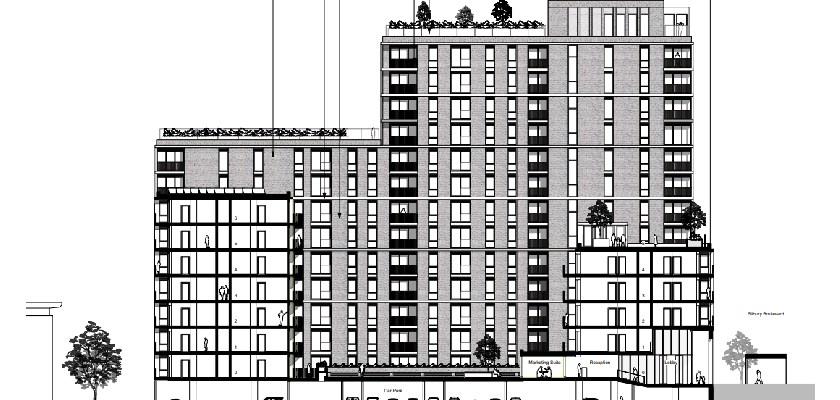 Trapped councillors faced a massive dilemma over a controversial city centre offices-to-flats scheme, with one saying developers held them in a 'hostage' situation.
Bowback House, in Silbury Boulevard, is a tax office that the owner Cannon Capital Developments, wants to knock down and build 306 flats on the 0.59 hectare site.
But Thursday's meeting of the development control committee was told that the developers already have permission, under permitted development rights, to convert the offices into 107 flats.
Councillors faced deciding between getting 107 flats where they would see no social homes, and no payment towards infrastructure, and 306 flats where they would.
And a last minute offer from developers to increase the number of affordable homes from 22 to 43 meant the case became more tempting.
Council planners maintained their recommendation that councillors should refuse the scheme, but said the decision was finely balanced. The decision could reasonably go either way.
Cllr Terry Baines (Cons, Campbell Park & Old Woughton) changed his mind during the debate from being an opponent to a reluctant supporter of the 306 flats.
"For us to be held to ransom, and I think we are being held to ransom," he said. "We either approve this, or get 107 units when we get absolutely nothing in return."
Referring to the general issue of conversion of offices into homes he added: "They are our future ghettos."
"We've had enough ghettos around the centre of Milton Keynes"
"I reluctantly am going to have to go against the officer recommendation and vote for this to be approved."
Cllr Baines said he was concerned though because the 306 flats are, he said, 183 parking spaces short of what they need.
"People are already fighting for spaces," he said.
Ward councillor Paul Williams (Lab, Central MK) urged the committee to stick to its guns over affordable housing.
He said: "I am very concerned that people have dismissed affordable housing."
"It is clear that in our economic situation we may need more affordable homes in the future."
But Cllr Andrew Thomas, of CMK Town Council said that: "Other schemes had less afforable housing."
"We have no hesitation in recommending approval. The latest offer seems most generous."
Planning officers confirmed that the average affordable housing secured in the city centre is less than the rate being offered.
And although 43 flats out of 306 falls far short of the council's 31 per cent target, they think it is acceptable. National guidelines ask for 10 per cent, the committee heard.
And the developers have offered an "upward only" review of the number of affordable flats as the economics of the scheme become clearer.
A proposal to refuse the scheme was defeated by six votes to five, which meant councillors had to vote for another motion.
They voted, also by six votes to five, to delegate planning permission to officers and senior councillors.
They now need to sort out a list of conditions that the developers will need to agree to before Bowback House can be demolished.