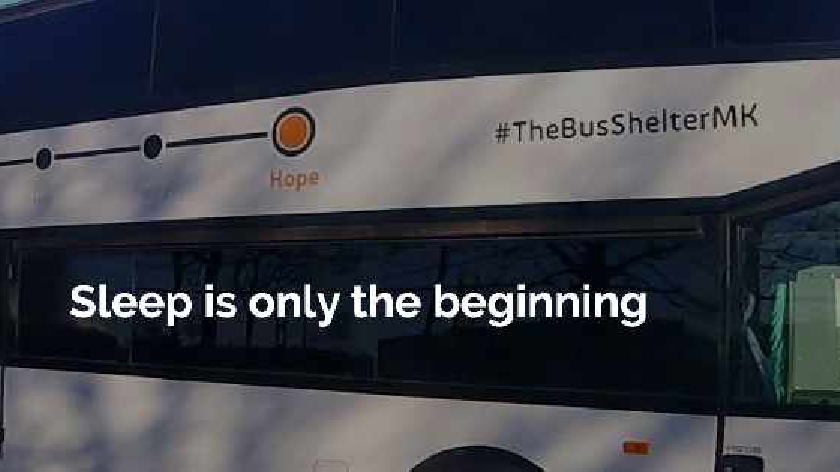 A new base has been found for a bus that helps homeless rough sleepers to put their lives back on track.
The Bus Shelter MK has to move away from its current base in Colgrain Street, Milton Keynes, because the area is set to be developed.
Last year they gained permission to use a car park off Avebury Boulevard. But that site was only going to be used if there were no other options.
Now the charity that has helped 55 people, from Formula 1 engineers to bankers to rebuild their lives, has been offered a lease for a redundant council site in Stantonbury.
The bus, once used by Robbie Williams' stage crew during the pop star's tours, is not roadworthy and is used to provide upstairs bunks for eight homeless people at one time, with the downstairs used as a living area.
It has now applied for planning permission to convert a former MK Council landscape depot in Crosslands into a site for the bus, five cars, a kennels, and a bike shelter.
Pam Williams, who chairs The Bus Shelter MK, told the Local Democracy Reporting Service that they will be good neighbours.
They had faced strong opposition from local residents and councillors over the proposed use of the free car park.
She said: "Due to the current Covid-19 health emergency we have been unable to consult with the local community about this – we were planning to organise a public meeting – but we want to assure them that we will be good neighbours.
"We do not accept people with drug and drink problems as we do not have the facilities to look after them.
"Our guests stay with us on average for four months, so there will not be a constant stream of to–ing and fro-ing on the site."
The bus has moved its guests off the bus and into accommodation during the current coronavirus emergency. In normal times at least half of them are working and "just need a helping hand to get back on their feet."
Ms Williams said she was aware of parking problems in the Stantonbury area and they are planning enough on-site parking for staff and volunteers.
She added: "The Bus Shelter MK is very grateful to have been offered a lease from Milton Keynes Council for the Stantonbury Landscape Depot and an additional very small parcel of adjacent land from The Parks Trust.
"Subject to planning permission this will enable us to continue our invaluable service to people experiencing homelessness in Milton Keynes.
"At the moment we have capacity for eight people on the bus and it may be possible for us to expand to 10 in total by offering a separate area for women."
The application is currently open for comments from the public on the MK Council planning website. It's due to be decided on by May 27.
The bus shelter is constantly looking for donations to help fund its services. More details on the website here: http://www.thebussheltermk.org/view/what-we-do