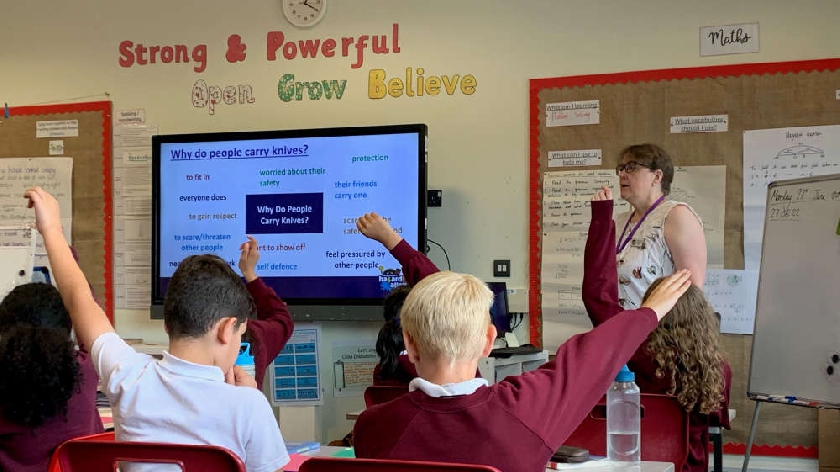 The High Sheriff of Buckinghamshire Debbie Brock attended a school knife crime prevention delivered by the Safety Centre Charity.
The session, provided by the Safety Centre's education team, taught year 6 students at Brooklands Farm School, in Milton Keynes, about the dangers and consequences of carrying a knife.
Debbie Brock, Buckinghamshire's High Sheriff, is keen to support initiatives that prevent crime and help build strong communities, and joined the Safety Centre in its school knife crime prevention session.
The Safety Centre Charity works closely with schools across our region. These vital relationships enable the charity to deliver early intervention knife crime sessions helping children and young people understand the impact of their decisions around carrying knives and weapons.
Debbie Brock, High Sheriff of Buckinghamshire said "I am so impressed by the session and the sensitive way Kathryn took the young people through the content. I was also really impressed by Brooklands Farm Primary School and their headteacher."
Maya Joseph-Hussain, CEO of the Safety Centre Charity said "We're so pleased to showcase our vital knife crime prevention school outreach sessions to the High Sheriff Debbie Brock this week. Our amazing education team have delivered over 130 knife crime sessions this past year to over 3700 students. I encourage schools across Milton Keynes and the wider region to book this ever popular and essential session for their students."
Contact the Safety Centre today on 01908 263009 bookings@safetycentre.co.uk to arrange a knife crime prevention session in your school or to book your school's next visit to Hazard Alley. It could save someone's life.