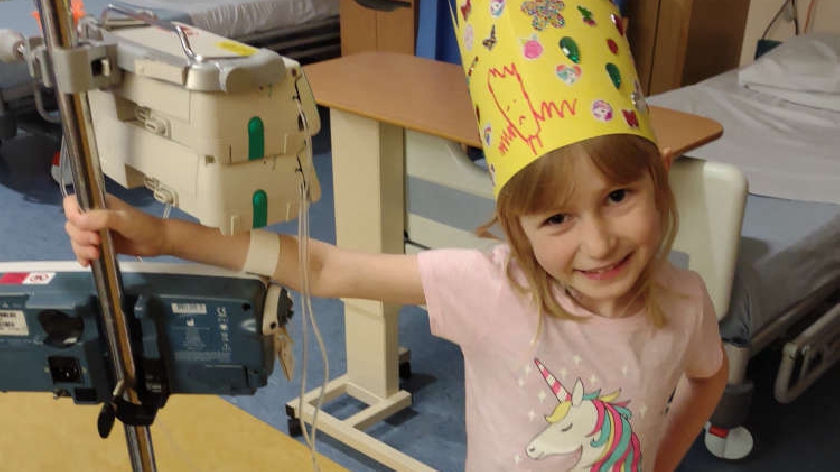 Great British Bake Off winner Nadiya Hussain has helped to give the Princess Poppy appeal a huge push.
Poppy Bailey from Lavendon, MK, was diagnosed with high risk Neuroblastoma, a rare and aggressive form of cancer, during tests after mum Claire noticed she looked pale and had lost her appetite last year.

"A chest X-ray showed a huge tumour wrapped around Poppy's heart and pushing against one of her lungs. We were told straight away it was cancer", says Claire. "Our world came crashing down around us in seconds. We refused to believe it at first, insisting that our little girl who's always been the picture of health couldn't possibly have cancer," said Claire.
Poppy's cancer has less than a 40-50% chance of long-term survival and had already spread widely, including to her bones and bone marrow.
Over the last year, Poppy has been on an immunotherapy trial, which has managed to get her cancer down from 33 spots to 3 in late November.
This then meant she could undergo surgery just before Christmas to remove the main tumour from around her heart and lung which was very successful with surgeons removing 99% during the 6 hour operation.
She is now in Great Ormond Street in isolation for 6 weeks high dose chemotherapy. Despite developing nasty side effects, Poppy remains resilient.
Last year, Poppy's family set up a fundraiser, Princess Poppy's Rainbow Appeal, in hope to raise enough money for potentially life saving treatment options abroad. These treatments could cost thousands of pounds.
Local people have been stepping up arranging events and fundraisers to help raise money and this week, Great British Bake Off winner Nadiya Hussain gave the appeal a massive push.
Milton Keynes-based Nadiya rose to fame after winning the sixth series of BBC's The Great British Bake Off in 2015 and has been known for her generous work with charities.
After posting an appeal on Instagram, a huge amount of money has been donated to Princess Poppy's appeal.
In the time that Nadiya's instagram appeal has been on social media, over 50,000 has been donated.
Nadiya later thanks her followers for their generosity in an Instagram story, urging people to help with the final push of donations.
You can read more about Poppy's story and donate to the appeal here.