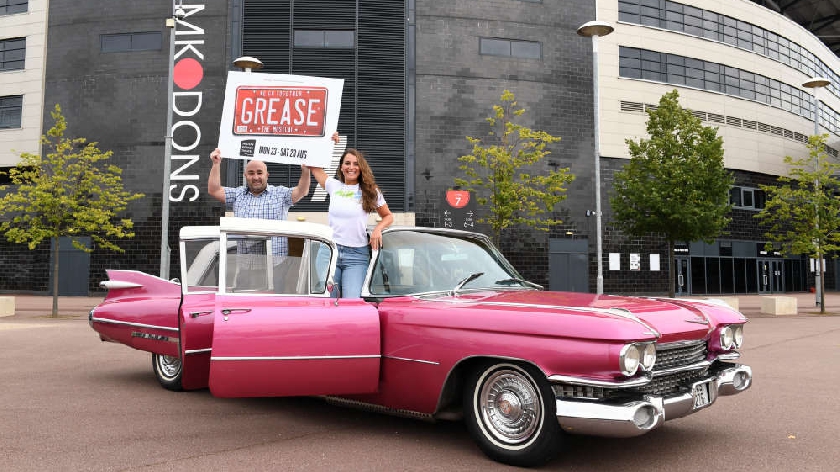 Image: Darren and Lia from MKFM's Breakfast Show. Photo Credit: Jane Russell
Why it's Greased Lightnin'! Last Friday, Milton Keynes took a trip back to 1959 as a bright pink Cadillac rolled into town, celebrating the return of Grease at Milton Keynes Theatre from Monday 23rd August.
Onlookers couldn't help but turn their heads as the luxury vintage car took a spin around some of Milton Keynes grooviest spots before completing its tour at Silverstone Circuit.
Starting at Stadium MK, home of the MK Dons, the Cadillac was joined by MKFM's Breakfast Show presenters Darren and Lia for a few electrifying poses. The car then made its way to 12th Street and looked pretty in pink by Kaspa's Dessert's as the team were pictured with one of their delicious milkshakes.
The next pit stop was centre:mk before finishing at the ultimate location for a Grease themed drag race, Silverstone Circuit. The automatic, systematic and hydromatic car looked in its element at the home of the British Grand Prix.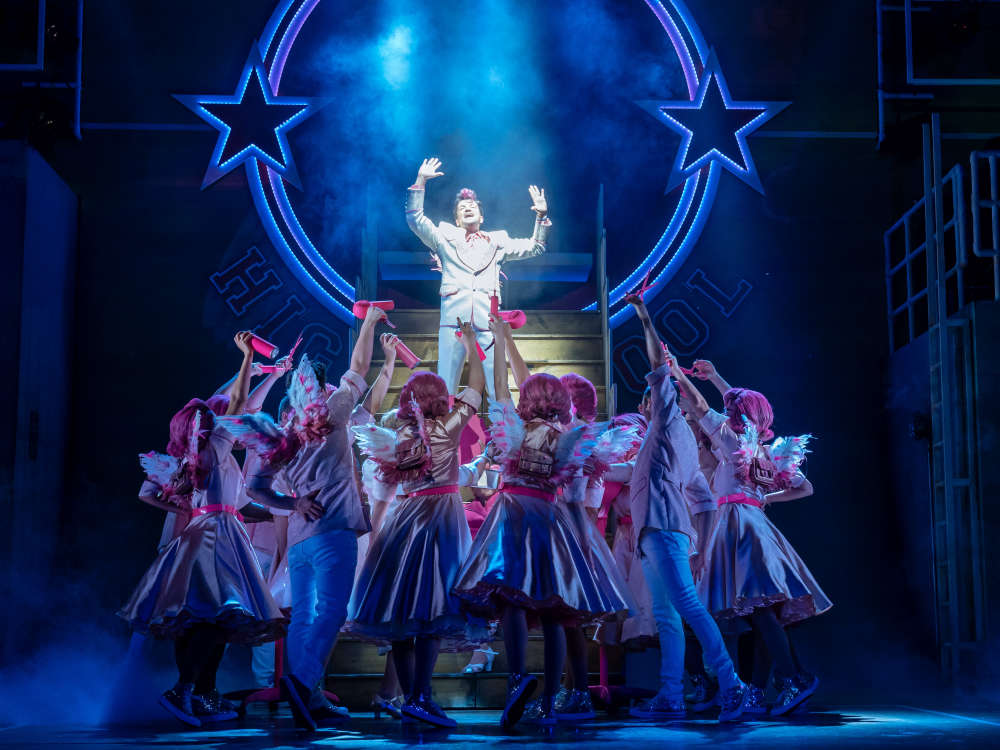 The brand-new production of Grease comes to Milton Keynes Theatre on Monday 23rd August staying until Saturday 28th August. With its phenomenal score, bursting with hits including Summer Nights, Greased Lightnin', Hopelessly Devoted to You and You're the One That I Want, this thrilling new version is brought to life by a fresh young cast who bring energy, vitality and passion to this ultimate musical classic.
Directed by Nikolai Foster and choreographed by Arlene Phillips, the 2021 tour of Grease will arrive at Milton Keynes in 6 days' time on Monday 23rd August. Following his success starring in the UK and Ireland tour in 2019, Peter Andre will star as Teen Angel and Vince Fontaine.
Time to round-up your Burger Palace Boys, pick up your Pink Ladies and re-discover why Grease really is the one that we want!
Book your tickets to the show here.
For your chance to win one of three pairs of tickets to opening night of Grease The Musical coming to Milton Keynes Theatre Mon 23rd – Sat 28th Aug, tune in to the MK Breakfast Show this week (16 - 19/08) and answer a Grease related question. Further details here.