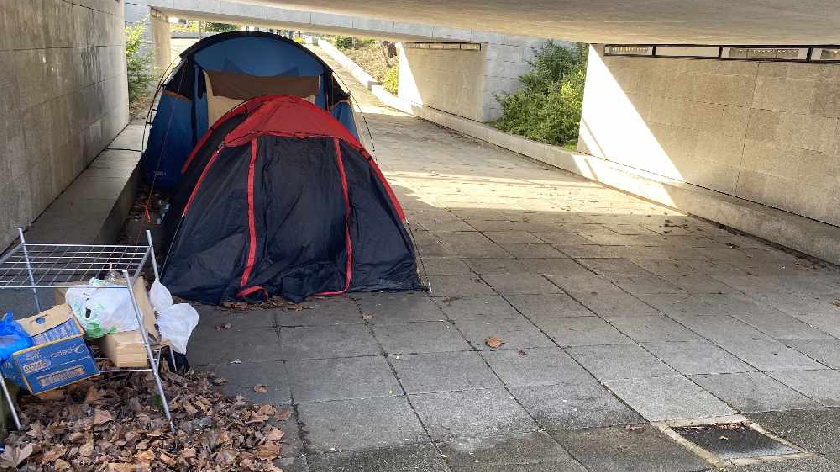 People at risk of rough sleeping and homelessness will be able to access extra support in Milton Keynes after the Government announced £243,160 in additional funding.
It has been said that Milton Keynes is the youth homelessness capital of the UK, with a 2019 report by the MK Community Foundation claiming that 1 in every 117 people in Milton Keynes is homeless.
YMCA MK, whose campus provides accommodation to 200 local young people, partially puts this down to the price of homes in Milton Keynes being 10x the average annual salary which they say makes it "impossible" for local young people to step onto the property ladder.
The Government has since announced this funding, which is part of a wider plan to end rough sleeping for good by 2024 and has seen MK benefit from £7.5 million in 2020 alone.
Milton Keynes is one of 43 areas across England that will share an additional £23 million to pay for drug and alcohol misuse services targeted at vulnerable people at risk of rough sleeping in 2020-21.
From April next year, funding for the programme will more than double to £52 million for 2021-22 with future allocations to be announced at a later date.
Thousands of rough sleepers who are being provided with emergency accommodation during the pandemic as part of the Government's 'Everyone In' programme, and people who are currently rough sleeping, will be eligible for the support.
The funding will pay for them to access drug and alcohol treatment, including detox and rehabilitation support, and to access mental health and substance dependence workers who can help them get their life back on track.
Ben Everitt, the MP for Milton Keynes North, said: "This funding for Milton Keynes on top of the £7.5 million we've already received this year will go a long way to helping people at risk of rough sleeping or homelessness.
"The cycle of alcohol and substance misuse is sadly often an underlying factor in why people end up on the streets so this further funding is vital in tackling the issue.
"Throughout the pandemic, the Government has supported thousands of rough sleepers and people at risk of homelessness, keeping them off the streets and protected from coronavirus and we want to end rough sleeping by 2024."
Iain Stewart, the MP for Milton Keynes South, commented: "I hugely welcome this support for some of the most vulnerable in our society. This further demonstrates the Government's continued commitment to end rough sleeping.
"Sadly, there are many factors which result in people finding themselves sleeping rough – many of them not visible.
"I very much hope that this targeted support will help to transform the lives of those sleeping rough across MK."
Kelly Tolhurst, Minister for Rough Sleeping, added: "We know that one of the main issues facing those sleeping rough, or at risk of homelessness, is misuse of drugs or alcohol and what a crippling effect these substances have on people's lives.
"While our 'Everyone In' campaign has helped to protect thousands of lives, we still need to work hard to break the cycle of rough sleeping for good.
"This funding will provide thousands of vulnerable people with the support they need to get on the road to recovery to rebuild their lives away from the streets for good."
© MKFM News 2020