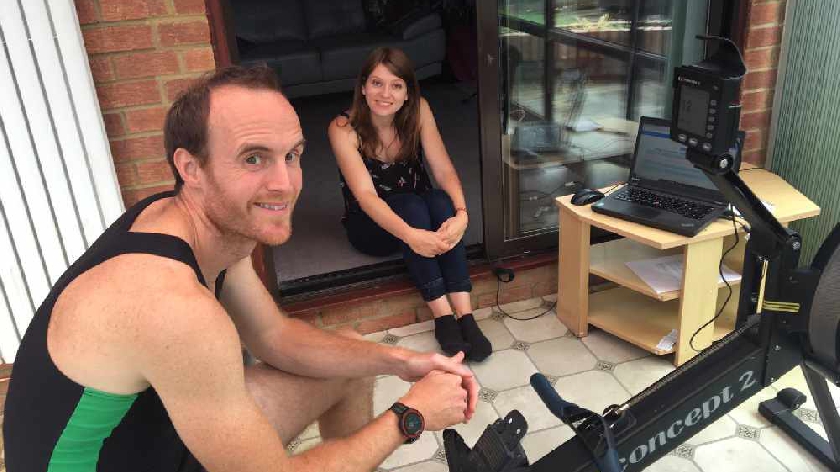 Lockdown couldn't beat Milton Keynes Rower Chris Hearn and neither could anyone else as he took gold in the British Rowing Virtual Championships.
The Milton Keynes Rowing Club (MKRC) member had to compete from home on a borrowed rowing machine but still beat the rest of the UK in the male 30-39 lightweight 500m event.
Chris completed the distance in an amazing 1.27.1 minutes, taking 2.5 seconds off his PB and beating his rival Craig Mumby who was representing the Army and had previously beaten Chris in the Indoor Championships last December.
This time though Chris forced Craig into second place, beating him by 1 second and rowing the full 500 metres in the fastest time of any lightweight rower in the competition.
Chris said: "After winning four silver medals at previous British Championships it was great to finally get a gold one.
"What's made it even sweeter was that I was due to have long awaited surgery on my Achilles three days later so it was a very poignant last hoorah before what will probably be a fairly lengthy layoff from any competitive sport."
Chris also raced in the 2,000 metre race and took the bronze medal in his category, recording a new PB of 6.40.1 minutes.
Like many sports clubs, the Covid-19 pandemic has had a huge impact on MKRC, with crews unable to take boats out due to social distancing rules.
That's the reason the club allowed members to take the club rowing machines home to continue training; and it was one of these machines that Chris used to train and compete in the virtual championships.
Helen Smith, Chair of Milton Keynes Rowing club, added: "Chris has clearly been keeping his training going and has worked incredibly hard.
"The whole club is incredibly proud of his achievement, especially during this time when we are unable to get out on the water - although we have been having regular training sessions via Zoom!"
As well as training, the club has had to cancel its Regatta and postpone its Taster and Learn-to-row sessions due to Covid-19.
It's hoped the club can hold those sessions for newcomers in the next few months so if you fancy a new challenge head to the club's website www.mkrowing.org to find out more.