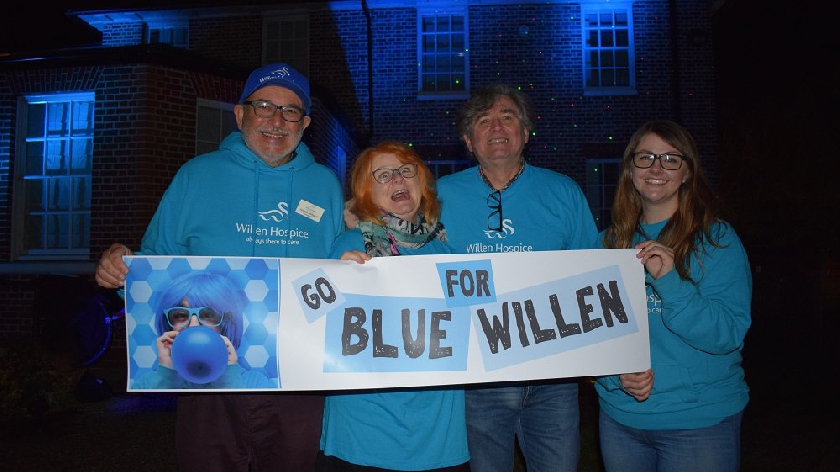 The well-known Lakeside home of Willen Hospice was lit up blue on Friday to mark the start of Go Blue for Willen, a campaign to encourage the local community to raise money and awareness for the charity.
Go Blue for Willen runs from 1–17 March, and work places, schools, families and friends are being encouraged to take part in a blue-themed fundraising event of their choice. The team behind the two week long appeal have come up with a list of suggestions for people to take on including a dress blue or denim day, a blue bake sale, a day or afternoon of games like The Human Fruit Machine and even holding the boss for ransom (they are released when they raise the target amount!). Whatever people take on, Go Blue is all about having fun and raising vital funds for Willen Hospice.
Sarah Sweet Rowley, Associate Director of Community Development, says, "Go Blue for Willen is one of the most important campaigns in our calendar. It provides a great opportunity for people to have a bit of fun while raising vital funds at the same time. The community are always so supportive and we love seeing the different ways they get involved. We'd love to hear from people who are joining in, so please get in touch!"
The charity will also be holding their own events for Go Blue for Willen including a Blue Cross Sale across their high street shops, a Quiz Night on 14 March, and their very first Car Boot Sale at Queens Avenue Car Park in Newport Pagnell on Sunday 17 March.
Willen Hospice needs to raise £4.7 million a year, that's £9 a minute to continue caring for patients at the Hospice and in the community. To find out more, visit www.willen-hospice.org.uk/blue More fundraising ideas and downloadable resources are available on the Hospice website www.willen-hospice.org.uk/blue or call 01908 303071.