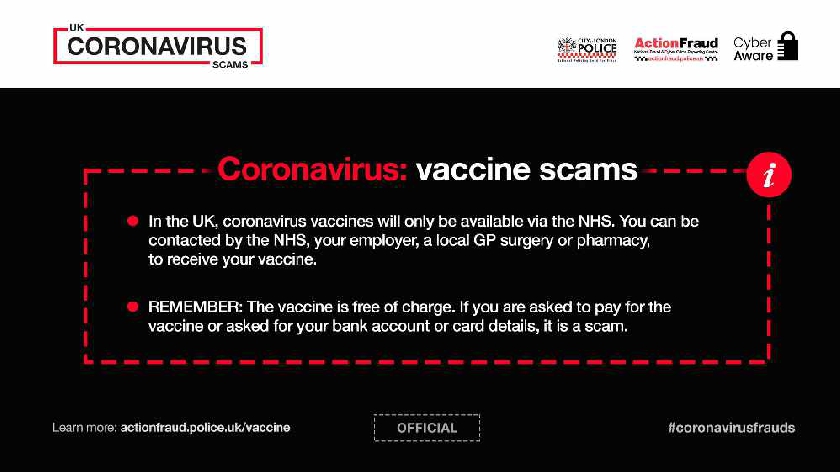 Action Fraud has received hundreds of reports about fake NHS email addresses sending details about a 'digital vaccine passport'.
The emails claim to be able to provide people with a "digital passport" that "proves you have been vaccinated against COVID-19".
This opportunistic scam encourages people to register for their documentation by clicking a link to visit a webpage, which then encourages them to pay a small "admin fee".
Vaccinations and subsequent vaccination status can be obtained free of charge through the NHS.
There is no admin fee, so if anybody asks you to pay a sum of money then it is a scam.
It is also important to note that the NHS will not email double-jabbed people about a 'digital passport'. It is instead up to you to register yourself, online or through the NHS app which is different from the NHS COVID-19 app.
The NHS will never ask you for your bank account or card details.
The NHS will never ask you for your PIN or banking passwords.
The NHS will never arrive unannounced at your home to administer the vaccine.
The NHS will never ask you to prove your identity by sending copies of personal documents such as your passport, driving licence, bills or pay slips.
If you receive a call you believe to be fraudulent, hang up. If you are suspicious about an email you have received, you can report it by forwarding the email to: report@phishing.gov.uk. Suspicious text messages can also be reported by forwarding them to the number: 7726 (it's free of charge).

If you believe you are the victim of a fraud, please report this to Action Fraud as soon as possible by calling 0300 123 2040 or visiting www.actionfraud.police.uk