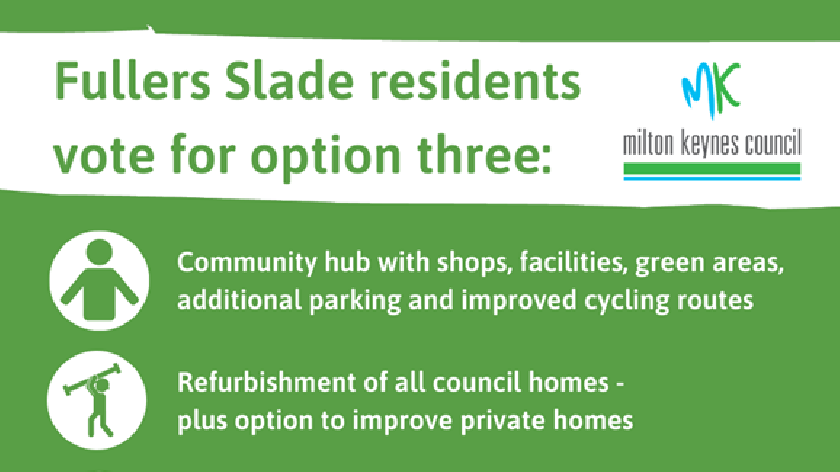 55% of Fullers Slade residents have voted for new homes, refurbishment and improvements on the estate in a local ballot.
65% of residents turned out to vote on 29 and 30 November following two years of discussion with local residents.
Residents voted in favour of an option that included estate-wide improvements, including:
369 new homes – 20% of which will be affordable

Refurbishment of all existing council homes with an option of improving private properties

An extended and enhanced Spider Park

A hub for the community with shops and local facilities, including green areas, additional parking spaces and improved cycling routes
A planning application for the project is expected to be submitted next year.
Ahead of the ballot, Milton Keynes Council worked with the Fullers Slade Residents' Steering Group (RSG) to organise 22 consultation events attended by more than 700 people.
But the discussion doesn't end now residents have voted. A portacabin designed by a local artist with the help of young people from Fullers Slade has arrived in the Spider Park, intended as a community hub and an open and welcoming place for public events ahead of the planning application.
Director of Housing and Regeneration at Milton Keynes Council, Michael Kelleher said:
"Thank you to everyone who turned out to vote. We have made it clear from the outset that it's local people who will decide on the future of their estate. We will continue talking with local people as we prepare to submit a planning application.
"I'd also like to thank the RSG and council colleagues for their work over the past two years and look forward to continuing to work with the community throughout the process."
Chair of the RSG, Sylvia Airs said: "The RSG accepts the decision made today by residents however as always we remain mindful of those for whom this may be disappointing news. This is not the end of the regeneration process but simply the end of the first stage. We will now continue to work with all residents through the detailed planning and design stage to help develop a plan that will ensure Fullers Slade homes, estate and the community becomes the very best it can be and a place we are proud to call home, a place where others will want to come and visit.
"We thank all those who turned out to vote today and in doing so made sure their voices mattered."
This is Milton Keynes Council's second regeneration ballot, following the vote that took place in Serpentine Court on the Lakes Estate last year.
The other options available in the Fullers Slade vote were for no redevelopment, or for refurbishment and new homes.
For more information about each option, click here.