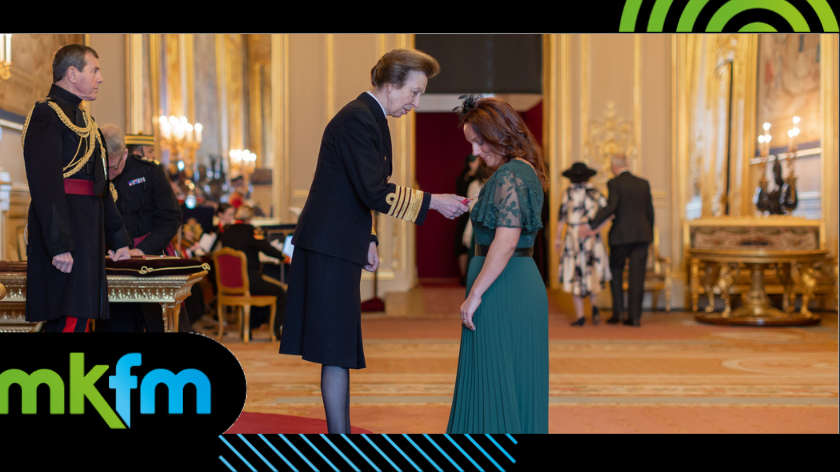 On Wednesday 8th March, Harry's Rainbow founder & CEO, Odette, was invested by Princess Royal at Windsor Castle.
Local charity, Harry's Rainbow, was founded by Odette Mould following the sad passing of her son, Harry Mould, who was just 5 years old. The experience they had in finding local child centered support for Harry's twin sister Jessica drove Harry's parents to start a child bereavement charity and raise awareness of the needs and services available to bereaved children.
The charity supports children and young people in the Milton Keynes and surrounding areas, who have been bereaved of a parent or sibling. As well as providing information and guidance on their website and social networking sites, they provide various bereavement support services.
These include regular support groups, activities and trips, and individual tailored support, as appropriate.
As part of the Queen's Birthday honours of 2022, Odette was awarded an MBE and as a result was also given the honour of attending the late Queen Elizabeth's state funeral.
On Wednesday 8th March, Harry's Rainbow founder & CEO, Odette was invested by Princess Royal at Windsor Castle.
Odette has written about her experience: "Receiving my award during the month of Harry's Anniversary feels particularly poignant but the coincidences of the day did not stop there.
"As I woke at 6am greeted with my black coffee (thanks Hubby) the light streaming through the window felt brighter somehow, clearer, and as I looked beyond the paned glass, I could see why: it was snowing! Despite apprehension as to whether this would upset our travel plans, I was transported back to 14 years ago to a memory of my son Harry, making snow angels. Him shouting "look at me, Jess, Jess, look at me !! I'm making a snow angel! It's a snow Angel" as he lay criss-crossing his arms and legs through the snow. Little did I know at that time, this would be the last taken video footage of Harry, and the last time he would get the chance to play in the snow.
"The journey to Windsor wasn't too bad considering, and though he was a confident navigator, Lee (hubby) decided to follow google maps, just in case of setbacks. The twists and turns we were being taken on weren't dissimilar to a journey of grief, with some very unfamiliar roads, then we soon realised that we had approached the junction, leading to the old offices of the bereavement charity we had travelled to regularly after Harry's death, in 2009. We would typically go early on a Saturday morning, a minimum of an hour's drive away, to access the combined family support they provided.
"We reached Windsor in plenty of time to find a coffee shop, where we sat and had a light breakfast, trying our best not to spill coffee or crumbs, before driving up the long walk to the magnificent castle. As we neared, snow drifted with urgency around our car and it felt as though we had been transported to Narnia (with the exception of many a uniformed police officer).
"Inside the castle was incredible, and the children were fascinated with the incredible art and décor. The palace staff were so friendly and welcoming, each one directing us to our destination and sharing interesting details. One told us that the room I was to be invested in by The Princess Royal was adorned in 22ct gold walls and ceilings, built in King George 4th's reign.
"Princess Anne opened the conversation with her acknowledgement that there was a lack of services in Milton Keynes before Harry's Rainbow existed, and we talked about the importance of memory boxes for bereaved children. She asked about the facilitated support we provide and was impressed with how many groups we hold for our beneficiaries. I also invited her to visit our new offices; wouldn't that just be something if she agreed?!
"Despite having known about being a recipient of an MBE since last April, the past year has been a whirlwind of emotions and I'm not quite sure I've processed or accepted the magnitude of the honour. It's been incredible time for both Harry's Rainbow and I, and I am incredibly grateful for this experience of a lifetime."
You can find out more about Harry's Rainbow here.