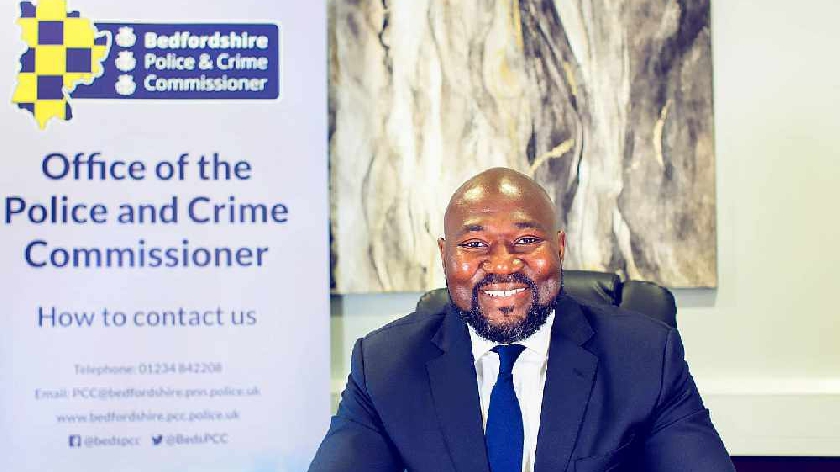 A man who once stayed at the YMCA in Milton Keynes has worked his way to becoming the Police & Crime Commissioner for Bedfordshire.
Festus Akinbusoye was having a difficult time when he moved into the YMCA nearly two decades ago, after leaving his family home in London.
Speaking to MKFM in 2019, Festus explained: "The rent was affordable but it hits your confidence at the very beginning. The idea of 'how am I going to move on with my life?'. That stood out to me the most, and certainly the emptiness of that space and how very different to home it looked."
Festus spent time in the YMCA while receiving tailored support to help him. This support proved crucial while he was starting his own small business - that same business still exists to this day, and now employs around 50 people.
The 42-year-old is the Managing Director of Ikan Facilities Management, a security business that protects clients' assets worth over £500m. He has also worked as a volunteer mentor to young and ex-offenders while serving as Special Constable with Bedfordshire Police.
All of this has contributed to Festus' aim to become the Police & Crime Commissioner (PCC) for Bedfordshire, where he now lives with his family.
On Friday 7th May 2021, this dream proved a reality for Festus who was voted in as the county's PCC.
In the lead up to the election, he travelled 500 miles in a branded van campaigning and meeting residents.
Last stop Biggleswade following 500 miles in two days across much of Bedfordshire.

It's been a fantastic last 48hrs with an hour of activity before the polling stations close..

Hands down, I have the best campaign team any candidate could have had. 💙💙💙 pic.twitter.com/uvVO22UXXX

— Festus Akinbusoye PCC (@Fest4BedsPCC) May 6, 2021
He was also incredibly vocal on social media about his aims to be "open and transparent" in his new role to make a "safer Bedfordshire".
Now that Festus has been sworn in as PCC, his aims include:
- Investing to bring back community-based policing for both urban and rural communities
- Tackling drug dealing, antisocial behaviour and the causes of these crimes
- Supporting law-abiding citizens' rights to a peaceful life in the county and putting victims' needs first
- Leading a multi-agency approach to early intervention and tackling re-offending
- Leading an open and transparent policing area
The overall aim of my time as Bedfordshire's Police and Crime Commissioner will be to PREVENT harm, PROTECT victims and PROSECUTE criminals. I'll be holding first official meeting with @CCGarryForsyth and SLT in a few days. Lots planned. Lots to do for a #SaferBedfordshire 🚔 pic.twitter.com/WLPrWjJSEr

— Festus Akinbusoye PCC (@Fest4BedsPCC) May 10, 2021
When Festus spoke to MKFM two years ago, he said that he didn't know where he would be without the help of the YMCA.
The housing charity has helped thousands of young people since 1981.
You can listen to our moving interview with Festus here.