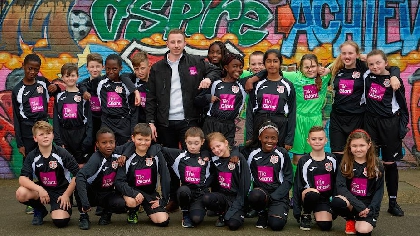 Children from Abbeys Primary School in Bletchley are stepping out in their new sports kit, sponsored by local retailer Tile Giant.
The home improvement store, located on nearby Denbigh Road in Bletchley, has kitted out the boys' and girls' teams to support the school's efforts to get more local youngsters taking part in sport.
Branch Manager Jordan Bailey presented the children with their new kit and said: "Tile Giant likes to support the communities we work in. Abbeys Primary is on our doorstep and we know they do an amazing amount of good work both in the classroom and on the sports pitch.
"The team at Tile Giant are all proud to think of the kids going out to play across the region in their new kit. Never mind the Dons, this season we'll be cheering on Abbeys Primary, they're our favourites."
Sophie Good, Head Teacher at Abbeys Primary, added: "Our school, like so many others in the country, is made up of children from a variety of backgrounds. We are so grateful for the support we receive from the local community to provide opportunities for the children. The supply of football kit from Tile Giant will ensure our teams continue to go out and represent the school, giving the children a sporting as well as social education.