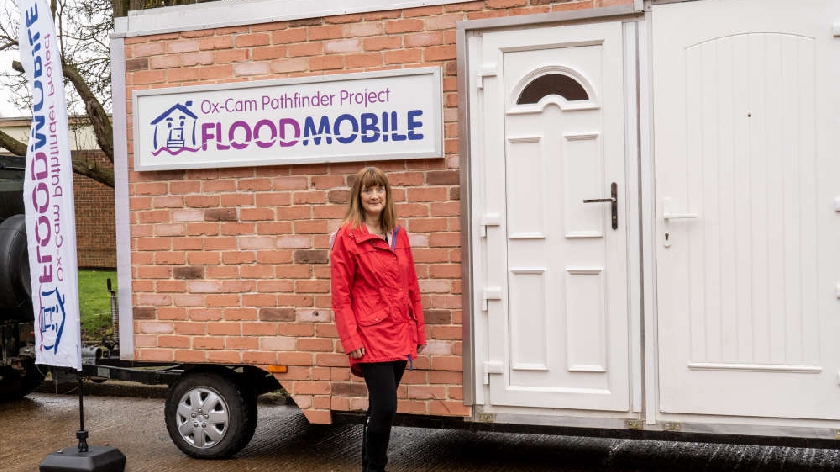 The 'floodmobile' has arrived in Milton Keynes today (3/8) to teach homeowners and businesses about how they can make their property flood resilient.
The Ox-Cam Property Flood Resilience (PFR) Pathfinder Project will be driving its interactive demonstration vehicle, which is a flood-resilient home on wheels, to different areas across the city this week.
It provides examples of over 50 practical measures on how to protect your property.
There will also be a team of flood resilience experts, providing information and advice on what they can do to make their property flood resilient.
Our Floodmobile has arrived in #Woughton! Come & meet Mary, Fola as well as representatives from @mkcouncil for advice and information on property flood resilience and what practical steps you can take to help lessen the impact of flooding at your home #floodaware #miltonkeynes https://t.co/Au3QZAQxTb pic.twitter.com/7rB7TwklFY

— RAIN_Northants (@RAIN_Northants) August 3, 2021
The free event will be held at the Community Council Car Park in Woughton from 10am until 4pm today. The remaining visits include:
Wednesday 4th August: Newport Pagnell Car park between Marsh End Road, Station Road and the High Street, 10am – 4pm
Thursday 5th August: Stony Stratford Market Square Car Park, 10am – 4pm
Friday 6th August: Stoke Goldington Village Hall, High Street, MK16 8NR, 10am - 4pm
Councillor Jane Carr, who represents Newport Pagnell South, has been fighting for flood education and prevention measures on the Council.
Councillor Jane Carr said: "During the Christmas floods I saw streets flood in less than an hour in Newport Pagnell. These residents desperately need our help, which is why I've been fighting for proper solutions to prevent future flooding across Milton Keynes, and I'm happy to have helped secure this educational event.
"Although dealing with flooding is the responsibility of multiple partners including the Environment Agency, Anglian Water and Milton Keynes Council, we want residents to be prepared. This mobile exhibition is a step in the right direction. I would strongly encourage residents to attend."