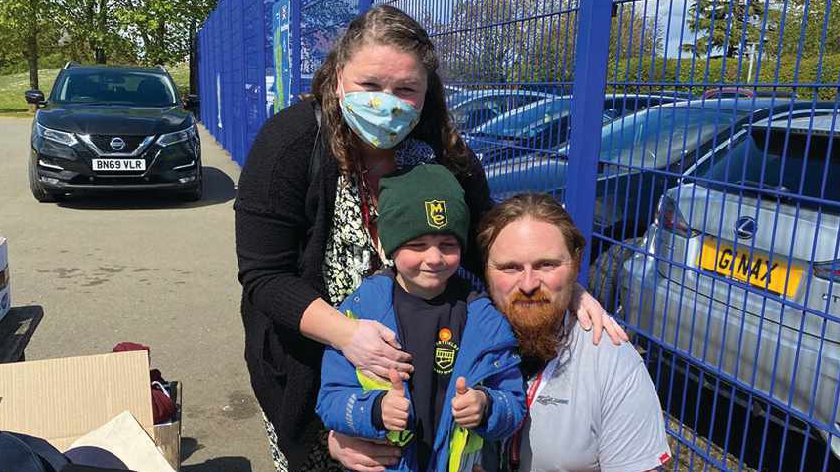 A five-year-old schoolboy that aspires to one day be a truck driver was visited by his real-life heroes at school last week.
Last Thursday (6/5), the Road Haulage Association (RHA) visited Portfields Primary School in Newport Pagnell to introduce pupils to the world of trucks.
They turned up, complete with a shiny Mercedes tractor unit, to meet one pupil in particular, five-year-old Henry Ellison.
Last year the school held a superhero day and Henry turned up dressed as a truck driver. Everyone else turned up as Superman, Spiderman, Batman and Wonder Woman and none of whom could understand why Henry was dressed as a truck driver. "I'm an HGV Hero," he said.
The RHA was very moved by Henry's story, alongside a number of other transport companies, so they decided to mark the occasion as part of our 2020 HGV Heroes campaign.
Sadly, Covid-19 meant that the presentation had to be put on hold, but this week they were finally able to present Henry with his special HGV Heroes certificate and pile of gifts, including model trucks and hats from other companies who also wanted to say thank you.
Presenting Henry with his certificate, RHA Managing Director Rochard Smith said: "The past twelve months have been challenging to say the least but it's because of our truckers dedication that supermarket shelves have been stocked and hospitals have been supplied with PPE. It was a real privilege to meet our youngest HGV Hero, Henry Ellison, his friends and fellow pupils.
"They were thrilled to have the opportunity to 'get up close and personal' to a truck and we, in turn, were thrilled at their enthusiasm at the thought of one day being a truck driver. I have a good feeling that the future of the industry will be in safe hands."
The event comes days before the RHA Heroes campaign, where they encourage operators in the haulage, van and coach sectors to nominate their own heroes who've gone the extra mile over the last year.
All nominations will receive an RHA Heroes 'Thank You' certificate before a panel of industry figures decide on a winning RHA hero or team of heroes. The winner will then get a special prize at the end of the campaign on Friday 11 June.