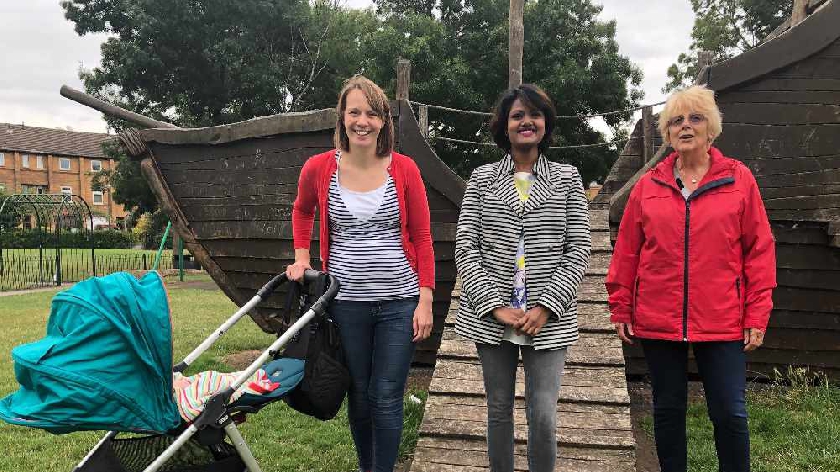 Cllrs Hannah O'Neill, Shammi Akter and Carole Baume by the new Pirate Ship park play area and sensory garden on Fishermead.
The ever popular Pirate ship on Kernow crescent, Fishermead has been given a boost by the award of £20,000 to create a park and a sensory garden around the pirate ship.
The local team of Labour councillors; Shammi Akter, Carole Baume and Hannah O'Neill have welcomed the funding and the development of the park and sensory garden around the exiting popular Pirate ship.
The new park, play area and sensory garden was funded jointly between Milton Keynes Council and Campbell Park Parish Council. Both put £10,000 pounds into this improved children's play park.
Local councillor Shammi Akter said, "I am delighted that the new Pirate playpark and sensory garden was open for the summer holidays.
Cllr shammi Aktar added, "I have started doing an advice surgery at the Campbell Park Parish Council offices on Fishermead. I believe it is important that residents of Fishermead have good services for the many children on the estate. The new Pirates ship park play area and the sensory garden are a great addition to community facilities for the children of Fishermead.
Cllr Shammi Akter concluded, "I want to thank Milton Keynes Council and the Campbell Park Parish Council for their support, for putting money into our community. We are building a strong partnership approach on Fishermead."