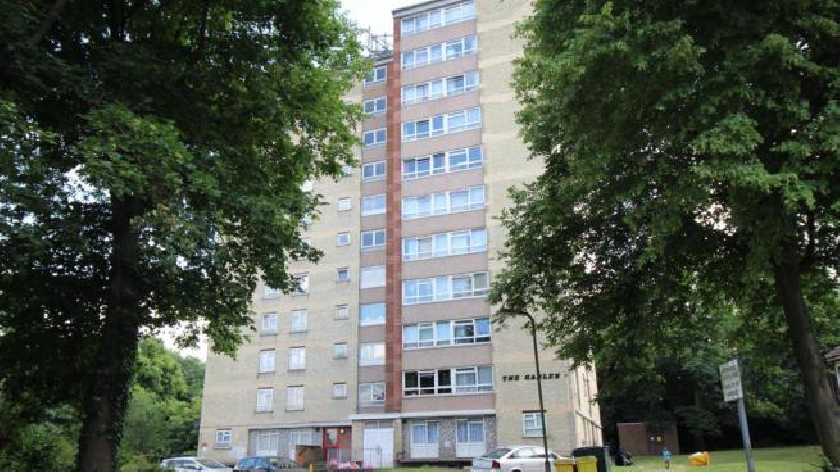 The Gables in Wolverton
Fire chiefs say they are prepared – if necessary – to flex tough enforcement powers over safety at two tower blocks in Milton Keynes.
The chief fire officer of Buckinghamshire and Milton Keynes Fire Authority this morning (14/10) said that Milton Keynes Council will be treated like any other "responsible person" over Mellish Court and The Gables.
Eighteen storey Mellish Court, in Bletchley, and the 11 storey Gables, in Wolverton, were last month found not to be up to modern standards.
They were built 60 years ago and an audit in September found they are not up to today's standards for preventing the risk of smoke and fire spreading between flats and floors.
Milton Keynes Council is searching for a solution to the issue and say that demolition is "likely".
The cabinet member for housing services has asked her officers to come up with options in four to eight weeks.
In the meantime, there is now a 24-hour warden service at each block, which is an action that the fire service and the council agreed.
"This is a desperately important topic in Milton Keynes at the moment," said Cllr David Hopkins (Cons, Danesborough & Walton) at a meeting of the fire authority's executive committee on Wednesday morning.
"The focus is on Milton Keynes Council and us as the fire authority and we have to ensure we are being absolutely open and honest and transparent in everything we do."
Cllr Hopkins had asked the chief fire officer whether the "dangers and risk levels in the report" were sufficient to advise residents be "rehoused from both premises at the earliest opportunity."
Phill Mould, the group commander responsible for fire safety at Bucks Fire and Rescue Service did not offer an opinion on the rehousing option but said fire protection teams and the council have been carrying out "significant activity".
"We have carried out in-depth audits, and significant interim measures have been put in place," he said.
"Any risk assessment that is undertaken will take into account any control measures put in place."
He said a raft of options are being reviewed regularly by the council and the issue is being kept under "constant review".
Chief fire officer Jason Thelwell said the range of actions that the service could take could range from informal to formal.
"Formal action can include prohibition of a premises, and or prosecution of the responsible person," he said.
He added that whether the responsible person is a council or a business "we will treat them in exactly the same way.
"We have a track record on enforcement of informal action and we also have a track record of enforcement through prosecution and we will continue to do that," he said.
Cllr Hopkins added: "That's very reassuring."