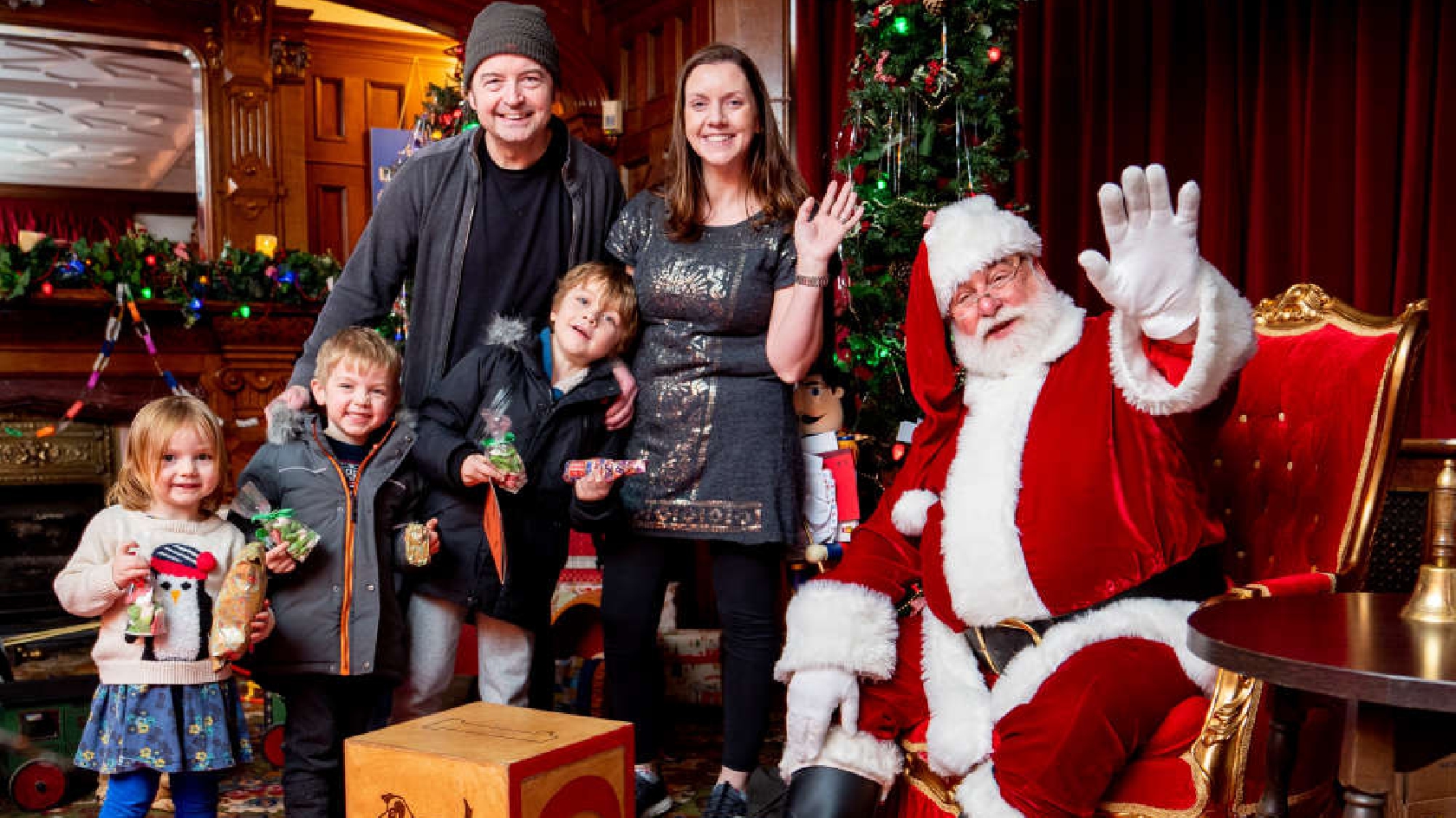 Visitors to Bletchley Park this winter can enjoy a very vintage Christmas and New Year, with fun festive activities for all the family.
Father Christmas will be taking up residence in the Ballroom in the Mansion, where visitors young and young at heart can share their Christmas wish and take home a present. Limited tickets (£11 + admission) are still available on selected dates in December, including a special Relaxed Christmas Grotto on Saturday 2 December 2023.
Tammy Stansfeld, Bookings and Events Manager at Bletchley Park said: "Our annual vintage Christmas Grotto is one of our most loved events and has become a family tradition for many visitors who return year after year. The Ballroom in the Mansion is a stunning backdrop for the Grotto, with beautiful vintage decorations and toys. We still have some tickets available, so book soon to avoid disappointment."
Visitors can make a day of it by picking up a free Christmas reindeer trail at Admissions to see if they can track down all the reindeer and crack the Christmas code. It's a perfect excuse to enjoy some fresh air and explore the historic site before warming up with a hot drink and treat in the Hut 4 Café or Block C Coffee Shop. A special festive afternoon tea is also available in the beautiful Bletchley Park Mansion Dining Room (booking essential).
Free, drop-in family Christmas craft activities will also be running on select dates in December. Wartime rationing made buying decorations and gifts almost impossible, and most people made their own. Families can get into the festive spirit by making their own Christmas decorations and gifts and test their logic skills in a puzzle to deliver cards to the Codebreakers. Between Christmas and New Year, families can join in free, drop-in activities inspired by Bletchley Park's Art of Data exhibition – discover how the World War Two Codebreakers visualised data to manage a vast amount of information and have a go at mapping out clues to solve a Bletchley Park puzzle. Families can also create their own art in the form of paintings and bracelets and add to the community artwork that will grow and develop throughout the week.
The atmospheric Codebreaking Huts will be decorated with simple, wartime rationing inspired decorations. Visitors to the Library in the Mansion can listen out for a recording of the BBC radio broadcast made by King George VI on Christmas Day 1940, at a time when this room was used by the Italian Naval Section.
Those looking to really test their brain power over the festive season can try Bletchley Park's Christmas Challenge, a new, free booklet with codes, puzzles and cryptic clues to solve, available to pick up at Admissions.
Shopping for that unique present? Bletchley Park's award-winning shop features exclusive codebreaking inspired gifts, including a large range of books, games and simple Christmas decorations. Gift memberships to become a Friend of Bletchley Park are also available, perfect for anyone who wants to learn more about the history of the site and enjoy special updates and exclusive events throughout the year. Gift tickets giving entry to Bletchley Park, and gift tickets for a delicious afternoon tea are also available.
Under 12s go free and all tickets act as an Annual Pass, giving unlimited free returns within a year. Don't forget, local residents receive a 50% discount on general admission tickets. All those who live within 10 miles of Bletchley Park are eligible for this great offer.
Visit Bletchley Park's website for more information here.