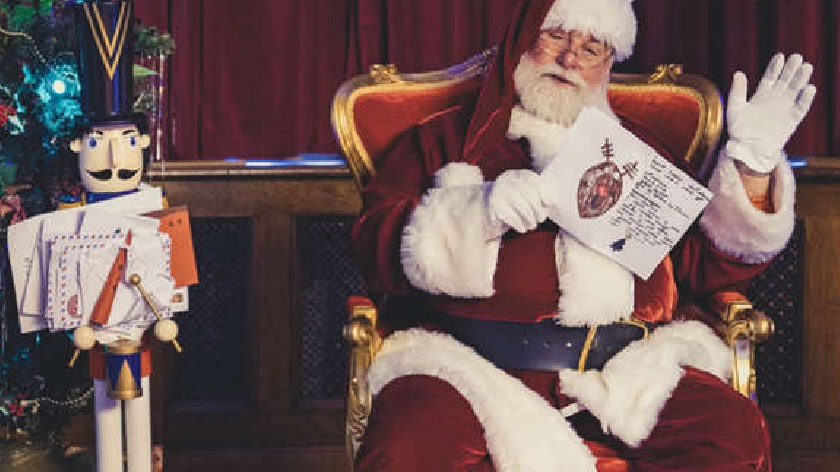 Bletchley Park in Milton Keynes, the once top-secret home of Britain's World War Two Codebreakers, now a vibrant museum and heritage attraction, will be welcoming the main man himself, Father Christmas, to its Vintage Christmas Grotto this winter.
Taking up residence in the sumptuously decorated Vintage Christmas Grotto in the Bletchley Park Mansion, families will be able to visit Father Christmas to tell him their Christmas wish and receive a beautiful present to take home. Tickets are on sale now for visiting the grotto in November and December (£9.50 per child, adults must have a valid Annual Pass or general admission ticket to Bletchley Park).
Families visiting Bletchley Park this winter can also pick-up a free puzzle trail and help Father Christmas find all his lost toys hidden around Bletchley Park. After a busy day exploring, warm up with delicious festive treats from the Hut 4 Café or Block B Coffee Shop. Starting your Christmas shopping? Beautiful, unique gifts are available from the Bletchley Park shop – from teddy bears and morse code machines, to the official Bletchley Park gin.
On Sunday 21 November, Bletchley Park will be hosting its first ever wreath making workshop giving you the chance to create a beautifully homemade Christmas wreath for either your front door or to gift to a loved one. Full details on the Bletchley Park website.
Booking for the Vintage Christmas Grotto experience is essential and can be done here. Full details on all upcoming Christmas events can be found on the Bletchley Park What's On webpage: https://bletchleypark.org.uk/event_type/whats-on/