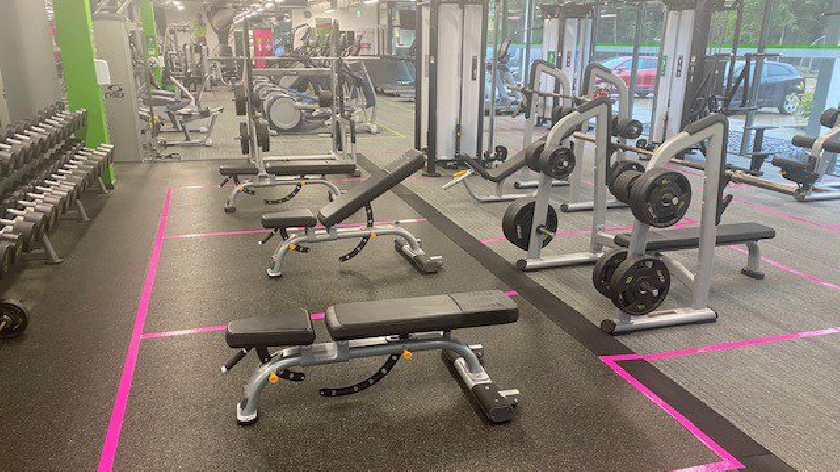 énergie Fitness based in Kiln Farm is preparing to open on Saturday 25th July, following its closure in March, due to COVID-19.
As a locally owned business, energie Fitness Milton Keynes is not just a gym, it's part of the community and takes the health, safety and wellbeing of its members and staff very seriously.
énergie Fitness has today outlined its 'Safe Exercise' plans to ensure the safety of members and staff, while maximising the opportunity for its members to return to fitness. While énergie Fitness has implemented a comprehensive plan of safety and guidelines, its management team has stressed that members must also do their part.
There are four 'golden' rules' members must follow. First and most importantly is for members NOT to come if they feel unwell or have any of the symptoms of COVID-19, such as a fever. Members are asked to maintain safe social distancing from others at all times, and encouraged to wash their hands regularly. Members MUST clean their workout space and equipment with the sanitisation wipes after use and make it clean and safe for the next person.
The énergie team is confident that working together as a community and following these basic rules will help to bring back the familiar feel-good factor and positive énergie members were used to.
Further to the above four 'Golden Rules', énergie Fitness Milton Keynes has outlined additional measures that will keep members and staff safe, they include:
Contactless entry. Entering an énergie gym is through a contactless method so no need to interact with other people to gain access – although staff are on hand to help when needed.

Limiting the number of members permitted into the gym at one time. Through the énergie app, members can see the 'live capacity' of the gym and book their time slots accordingly.

PPE equipment. All staff will be provided with PPE equipment.

Signage. There is clear signage throughout the club to offer advice, guidance and remind members to respect others at all times, and follow social distancing.

Socially distanced spacing of equipment. Through new layout designs, all equipment is spaced out to allow for safe social distancing.

Hand sanitisation stations. At entrances and around the gym, members and staff are encouraged to use alcohol gel hand santisers regularly.

Changing room facilities. Initially upon opening our showers will be out of use but members are able to change and use the lockers provided, although some lockers will not be in use. To help reduce contact points we ask that members try to minimize their use of the changing rooms and come ready to rock where and when ever possible.

Ongoing risk assessments and audit process. Each week, the gym will complete a strict and thorough audit to ensure the highest standards and best practice at all times.

Contactless vending. Even the vending machines for water and energy drinks use contactless payment and don't accept cash.
The cleaning and maintenance of énergie Fitness is an absolute priority. There is a comprehensive health, safety, and cleaning plan. énergie Fitness Kiln Farm has undergone a full sanitisation prior to opening and the team will be using a fogger system at the end of each day to ensure a long lasting antibacterial surface as well as a strict team cleaning regime.
"Once open, we will be increasing the frequency of cleaning in all areas of the club, changing facilities and toilets as well as anything that is commonly touched, for example door handles, card readers and equipment," says Claire Banbury owner of énergie Fitness Milton Keynes. She adds: "We will be providing all our staff with personal protective equipment, including face masks and will ensure hand sanitiser is readily available for all.
"Since we closed the club in March, we have been meticulously preparing for the day that we reopen. We know that one of the main concerns for members is hygiene, but I can assure them that our gym will be kept to the highest possible standard of cleanliness."
Claire adds: "All these measures will ensure that our club won't be overcrowded, and we are confident that we are best placed to manage our capacity and ensure all our members feel looked after, happy, and safe. We are really looking forward to welcoming them back"
To join an énergie Fitness, Milton Keynes, based in Kiln Farm visit www.énergiefitness.com/miltonkeynes