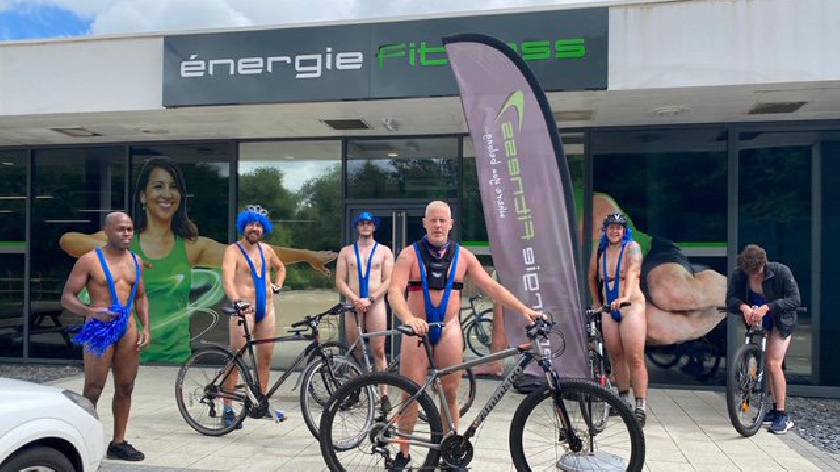 A team of cyclists from energie Fitness gym in Kiln Farm took to the redways of Milton Keynes wearing only Borat style mankinis as part of the Willen Hospice virtual Cycle Europe Challenge this weekend.
"This was the fourth big charity event that we have run through lockdown, and the second with Willen Hospice. After the success of our virtual relay race that raised £14,000, we knew we had to pull out all the stops to make this event stand out and catch peoples' eye," says Rob, owner of energie Fitness gym, and one of the "Mankini Six".
"It was actually when discussing what we could do for the event with our members on one of our weekend zoom socials, (which can be quite rowdy- especially when we have a wine tasting night with George Atkinson Clarke from Milton Keynes Wine School, as we had that night) that our members started pledging money if I cycled with blue hair. As the evening went on the pledges got bigger and so too did the lengths that they insisted I go to. So to make it fair I said I would do the cycle wearing nothing but a mankini and blue hair if I was joined by some other members...and so the Mankini Six were formed!"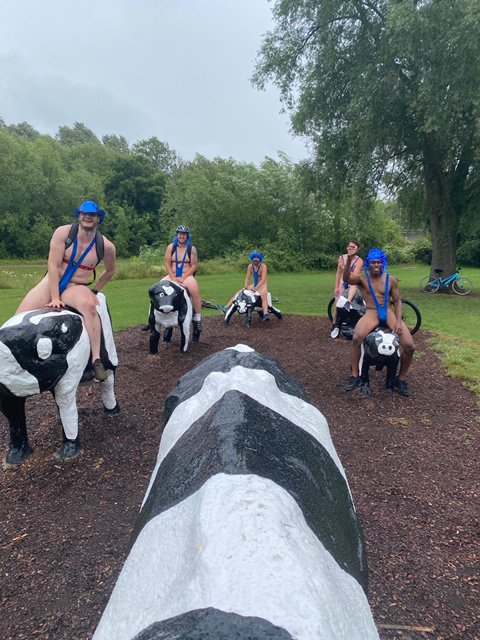 Claire from energie says, "At this time of lockdown and in particular social distancing, charities like Willen Hospice and others that we support are badly affected because the usual fundraising events have had to all be cancelled and don't look likely to go ahead any time soon. So we have had to get imaginative in the way that we help fundraise. This stunt was only one small part of the weekend of cycling for Willen that took place. We had groups of families, friends, and solo riders setting off from all over Milton Keynes and the U.K. in support of the charity."
"One pair of novice bike riders, Emma Marcel and Sam Styles, members from our gym who had never really ridden their bikes in years before lock down, raised a huge amount of money when they put in just over 100km on Sunday afternoon," continues Claire.
"As always, we see our gym as being a part of our local community and, despite having to continue with our closure as other businesses begin to open, we remain committed to working hard to provide a service to our members- through small group PT sessions face to face with our trainers at our outdoor fitness space and with on line classes, seminars and socials. Doing our bit for our local charities is a key part to giving back to Milton Keynes at a time when people continue to find it tough, stressful and worrying."
If you would like to get involved and try a free online class, or to find out more about the small group PT sessions email energie Fitness on Milton.keynes@energiefitness.com or call on 01908 410760.