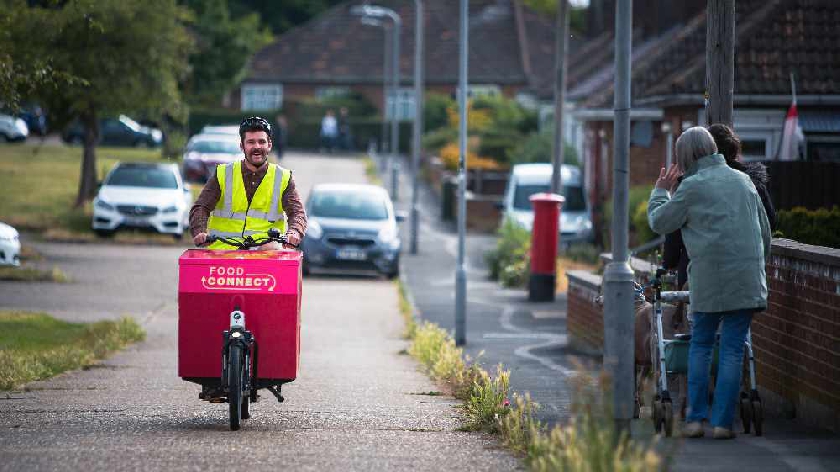 Electric vehicles delivering surplus food from retailers to community groups have saved 260,000 meals from going to waste in Milton Keynes.
The environmental charity Hubbub launched the Food Connect trial here in September 2020 and has since spoken out about its "astonishing" success, where food is delivered by electric cargo bikes and an electric van.
The trial saved 109 tonnes of food, the equivalent of almost 260,000 meals, and 1.7 tonnes of transport emissions. The food saved was associated with 36 tonnes of greenhouse gas emissions.
Despite significant progress on reducing waste across sectors over recent years, WRAP estimates that a vast quantity of surplus remains in the UK food system. The last or final mile is the most inefficient in redistribution - food at this stage is close to its end of life and redistribution often depends on collections by small voluntary organisations.
Aoife Allen, Head of Food at Hubbub, said: "We are thrilled to have saved 109 tonnes of food and at the same time supported the need for cleaner air. We believe that Food Connect can provide an agile, replicable solution to the final-mile-challenge by delivering great surplus food to community groups who can share it really quickly."
The Food Connect pilot supported community groups across Milton Keynes and was hosted by the Wolverton Community Fridge, which was one of the first to open in the UK in 2017.  The pilot partnered with retailers, restaurants, FareShare, Milton Keynes Council and food manufacturers to share healthy food in the community.
It allowed Food Connect to provide food to around 800 local families a week, and also gave groceries to those that were self-isolating or shielding during the pandemic.
Aoife Allen continued: "The food surplus sector in the UK is very effective but there are gaps that we believe Food Connect can fill. We want to work with businesses and others in the redistribution space to make it as efficient and beneficial to the community as possible. We'd really welcome support from the business community to help make this a reality."
Food Connect says it will continue offering the service in Milton Keynes while branching out to other areas across the country.
Businesses and organisations interested in supporting and collaborating in the next phase should click here.