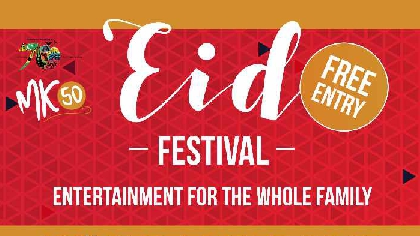 On 16th September, for it's 3rd successive year, Eid Festival takes place at Willen Lake.
Eid Festival, organised by Events & Arts Society returns to Willen Lake for its 3rd successive year on 16th September 2017. This celebratory multicultural festival has grown to attract thousands of people annually and provides a platform for small business to showcase their business. Eid Festival is delighted to be included in the MK50 major event programme- to mark the city's anniversary. In light of it being such a historic year, festival organiser have prepared their most ambitious event program to date.
Eid Festival supports Muslim Aid charity as their charity partners to get them good donations. In addition, Kashif Raza the sole event organiser at Events & Arts Society introduced raffle tickets to generate more donation for Muslim Aid Charity. Raffle will be on every two hours and the first raffle will be announced by the Mayor of Milton Keynes Cllr David Hopkins at 2pm which will follow through his speech at the event and also a walk around to the event.
The event will run through music with classical Qasida, Hamd, Naat, Qawaali and modern Nasheed.
Food lovers are in for a treat with a generous range of multicultural cuisines available at the Eid Festival consisting of mouth-watering live cooked food the local community businesses.
Alongside all of this Eid Festival will also include of community stalls, funfair and interactive activities.