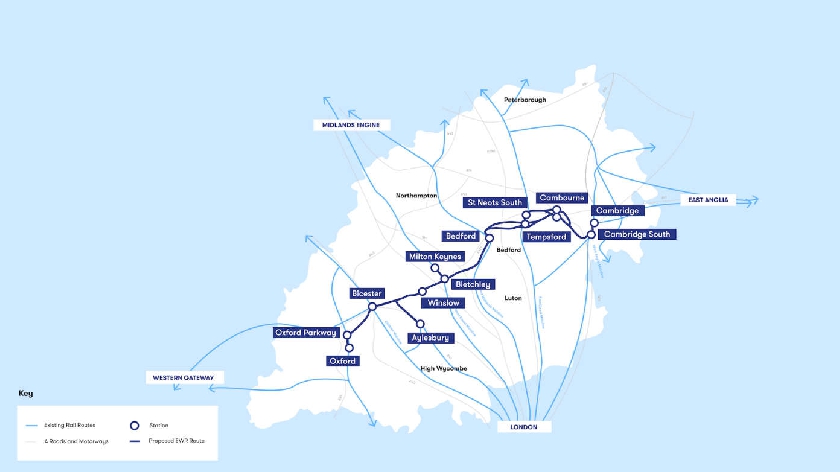 Yesterday's Autumn Statement has recomitted to the East West Rail line which will see a new station and lines through Milton Keynes.
Yesterday, Chancellor Jeremy Hunt announced backing for the East West Rail link following suggestions that there would be cuts to the scheme.
The scheme will see a new line introduced between Cambridge and Oxford, along with a new station in Bletchley.
Being introduced in stages, the first services will see a new link between Oxford and Milton Keynes with its new Bletchley station. As part of stage two, infrastructure between Bedford and Bletchley will be upgraded for new services between Bedford and Oxford.
The final stage will see the railway extended to allow services from Oxford to Cambridge, linking the major cities.
Milton Keynes Council Conservative Group Leader, Cllr David Hopkins has welcomed yesterday's announcement by Chancellor, Jeremy Hunt MP , that East West Rail (Bletchley to Cambridge) will now proceed.
Cllr David Hopkins, whose Danesborough and Walton ward will feature two stops at Bow Brickhill and Woburn Sands, said: "What is needed now is a timeline between now and anticipated project completion (estimated as 2032) so that we can prepare the case, mile by mile, for the necessary infrastructure that will accompany the development of the route and to ensure that local people are fully consulted at every stage of the development phase."
Despite the welcome response from the local Conservative leader, Conservative MP Richard Fuller, for North East Bedfordshire, says many of his constituents will be disappointed with the Minister's response. He says that the Bedford to Cambridge section of the rail line is 'unachievable'.
Cllr Steven Broadbent, Chair of the East West Main Line Partnership, said: "The Chancellor's announcement on the future of East West Rail is a huge boost for the region's residents and businesses, alongside the wider UK economy. East West Rail, delivered in full, will be a catalyst for economic growth and boost collaboration and innovation in our world class science and technology sectors.
"It will create new opportunities for our residents, with better access to jobs, education, training, tourist attractions and leisure pursuits. Their communities will be more sustainable, while East West Rail will support the regeneration of town centres. This is why East West Rail enjoys significant support from local authorities, businesses and residents right across the region.
"This announcement must lead to greater clarity for residents who may be impacted by East West Rail's construction and operation as soon as possible, including on how the East West Railway Company has addressed feedback from its 2021 consultation."