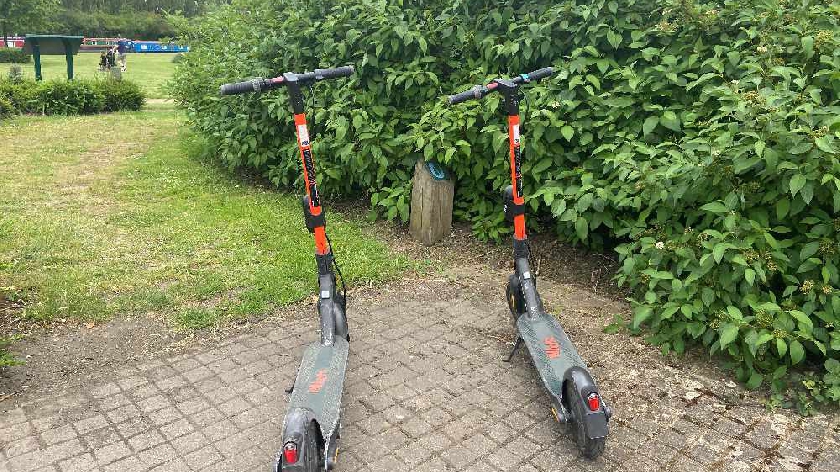 Photo: MKFM
It seems that e-scooters are incredibly popular in Milton Keynes, as the city is currently seeing the 'biggest uptake' compared with anywhere else in 'Europe and the USA'.
Since the Government's UK trial launched in August 2020, hundreds of thousands of e-scooter trips have been made across the city's redways and estate roads.
E-scooters are being trialled in dozens of areas, including Nottingham, York, Liverpool, Newcastle, and Oxfordshire.
And it seems that they are the most popular in Milton Keynes, as one of the scooter rental companies - Lime - says they have seen the biggest uptake here when compared with anywhere else in Europe or the USA.
🗣️ Productive meeting with @limebike about issues around the parking of e-scooters in Milton Keynes and potential options moving forward

🛴 Also fantastic to hear MK has a higher take up of e-scooters than anywhere in Europe or the USA pic.twitter.com/TJAJuz5vSs

— Ben Everitt (@Ben_Everitt) June 7, 2021
Lime is seeing over 1,000 people use their scooters in Milton Keynes every day.
The other two rental companies - Spin and Ginger - have also seen an increase in uptake from local residents.
Spin has reached 100,000 scooter rides in Milton Keynes, with 167,000 miles being covered by their machines.
Data has also provided information on the five most popular areas for ridership, which are mainly in Central Milton Keynes - the top being Avebury Boulevard, Midsummer Boulevard, South Eighth Street, and South Fifth Street.
And although the e-scooters have proved popular, there have also been issues raised by residents - especially how the scooters are left scattered across paths and redways.
Ben Everitt, MP for Milton Keynes North, recently had a meeting with Lime to discuss these problems.
He told MKFM: "It was fantastic to speak to Lime e-scooters about the success of their trials in Milton Keynes so far. The people of MK are always brilliant at reacting to new technology as we've seen with the delivery robots and the increase in electric cars on our roads so it's no surprise how popular e-scooters have been here.
"Of course we are still in the trial stage so no long-term decisions have been made yet so I raised some of my constituents' concerns around the parking of e-scooters and was pleased to hear Lime have looked at this issue and are actively looking at ways to improve the experience for Milton Keynes residents which is exactly what these trials are all about."