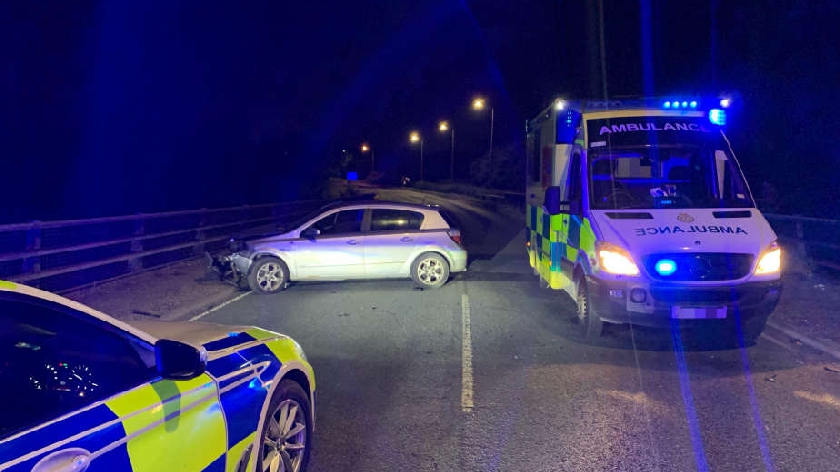 A drink driver has been arrested after crashing into an innocent motorist while travelling 'at speed' in Milton Keynes last night (21/7).
Thames Valley Police attended the two-vehicle collision on the H5 Portway, by the Lodge Lake overbridge.
"The driver at fault had been drinking and failed a drug wipe showing the presence of drugs," said officers.
The person responsible for the crash had collided with another motorist and caused damage to the bridge's safety barrier.
They were arrested at the scene and had a specimen of blood taken for analysis. If the results show that the driver is over the limit, then they could face a driving ban and an insurance claim for damaging the bridge barrier.
Luckily nobody was injured during this incident, but police have taken it as an opportunity to warn others about the impact of driving while over the limit.
"The dangers of driving after a drink or taking drugs cannot be underestimated, they added. "We will deal with you robustly to protect our communities."
In England, the current alcohol limit for drivers is 80 milligrammes of alcohol per 100 millilitres of blood, 35 micrograms per 100 millilitres of breath, or 107 milligrammes per 100 millilitres of urine.
If police want to investigate whether an individual is over the limit, they will use a breathalyser at the roadside. Those who fail this basic test will then be sent to a police station to use a complex breathalyser, and will provide two more samples.
The amount of alcohol that an individual can drink and stay under the limit varies from person to person. It depends on several factors including weight, age, metabolism, how much food the person has eaten, and stress levels.
"Even small amounts of alcohol can affect your ability to drive so the only safe advice is to avoid any alcohol if you are driving," says Drinkaware on their website.