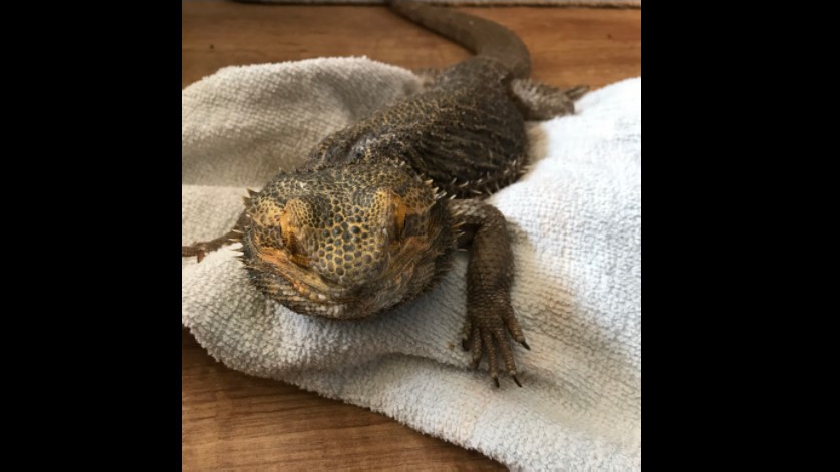 A bearded dragon found in a park in Milton Keynes has been rescued by the RSPCA, who have launched an appeal to try to find his owner.
The reptile was spotted on a path in the Pennyland area on Sunday (25 October) by a surprised dog-walker, who after fetching a box, was able to contain the lost animal and take him home. He reported his discovery to the RSPCA, who asked him to keep the animal - a species from Australia - as warm as possible until they could get there.
RSPCA Inspector Gina Stallon said: "The guy who found this beardie was a real hero. He followed our advice to keep the poor animal warm by resting the box on a hot water bottle in the airing cupboard till we got there.
"Considering he had been outside in the cold, this bearded dragon was in surprisingly good condition. He was the right weight for his size and was not dehydrated. But it could have turned out very differently. The dog-walker tells me that when he first spotted the one foot long creature in the park, he thought it was a toy and was about to throw it for his dog to fetch, but luckily he realised in the nick of time that it was actually a live animal!
"He is now being looked after by a specialist boarding establishment until we can track down his owner or rehome him."
RSPCA officers are called out to deal with hundreds of stray or abandoned reptiles every year.
Gina added: "If he is a stray, someone may be missing this lovely Beardie and we would like to reunite him with his owner, so if you know anything please contact our appeals line on 0300 123 8018.
"The alternative may be that this poor bearded dragon has been abandoned. Sadly it is not unusual for us to be called out to collect abandoned reptiles. Many people are unaware of how much of a commitment these animals are when they take them on. We would urge prospective owners to thoroughly research the needs of the particular species and what is required in the care of the animal, using expert sources, and only consider keeping one if they can ensure they are fully able to provide for these needs."
Abandoning a reptile or releasing unwanted exotic pets into the wild is cruel and illegal, as most exotic animals kept as pets are unlikely to be able to survive in the wild in Britain.
If you do find yourself in a situation where you can no longer look after your pet, there are options available. You could contact the original seller or a local reptile rescue centre for help rehoming your reptile if you feel you are no longer able to care for them.